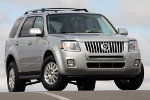 In 2005, the Mercury Division of the Ford Motor Company introduced a new compact crossover SUV for the luxury market, named the Mercury Mariner. This entry-level vehicle is considered as an upscale cousin of two other cars also produced by Ford, the Mazda Tribute and Ford Escape. The Escape and Mariner are basically identical mechanically, only that the Escape has manual transmission available. Aesthetic difference between the Escape and the Mariner include the color of the interiors and cladding, signal repeaters, and the front grille, as the Mariner employs the signature Mercury "waterfall" grille at the front.
Estimated Price Range for Used Mercury Mariner: $5,000-$19,500
Estimated MPG for Mercury Mariner: 20 City/26 Hwy
Available Trims: Base, Premier, Luxury, Hybrid
Below are Pre-Owned Mercury Mariner from Ebay and 7 of the top used-car sites on the web:
[phpbay keywords="Mercury Mariner" num="5″ siteid="1″ sortorder="BestMatch" templatename="default" paging="false" category="6001″]
The Mariner is also Mercury's first SUV based on a car. It is also the first Mercury vehicle to have a four-cylinder engine since the Cougar, which was discontinued in 2002. A year after the first Mariner was introduced; a hybrid edition was rolled out. The Mariner Hybrid system automatically switches between power from its electric motor, power from its gasoline engine a combination of both battery and engine. This ensures maximum efficiency and performance.
A special Presidential Edition was introduced in 2008 for former U.S. president Bill Clinton. Security features were added to the vehicle, with custom additions like bucket seats in the rear, a refrigerator, and DVD players for each seat. The current 2009 Mariner model is sold in the U.S. Outside the U.S., it is available in the Middle East and Mexico. The Mercury brand has not been available in Canada since 2002. The car's distinctions include Best Buy for 2 consecutive years (2005-2007) from Consumers Digest and Green Car of the Year in 2006 by Green Car Journal.
Mercury Mariner Review