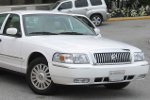 One of the few remaining lines of vehicles that the Mercury division of the Ford Motor Company still produces up to now is the Mercury Grand Marquis. It is a full-size sedan that has a rear-wheel drive. Its Panther platform is something that it shares with Lincoln's Town Car and Ford's Crown Victoria. For two years, from 1983 when it was first introduced, until 1985, the Grand Marquis was assembled in Ford's plant in St. Louis, Missouri. Since 1986 up to the present, the Grand Marquis, along with the Town Car and Crown Victoria, are produced at the St. Thomas Assembly Plant in Toronto, Canada. Since its introduction, the Mercury Grand Marquis has been equipped with V8 engines, bench seating for 6 passengers. Thus, it is one of the last remaining "traditional" American full-size cars that are still sold in retail, as other full-size cars, like the Crown Victoria, is sold by fleet sales since last year.
Est. Price Range for Used Mercury Grand Marquis: $500-$16,000
Est. MPG for Mercury Grand Marquis: 16 City/24 Hwy
Available Trims: Base, GS, LS
Below are Pre-Owned Mercury Grand Marquis from Ebay and 6 of the top used-car sites on the web:
[phpbay keywords="Mercury Grand Marquis" num="5″ siteid="1″ sortorder="BestMatch" templatename="default" paging="false" category="6001″]
In its first generation, the Grand Marquis experienced good sales and remained virtually unchanged, until 1986, when SEFI, or sequential electronic fuel injection was added to the engine. Aesthetic changes in 1988 included a redesigned front clip, grilled and badging. In this generation of the Grand Marquis, the 2-door coupe was discontinued because it did not sell well. The second generation Grand Marquis received a more extensive makeover, with sheet metal, a redesigned roof line, new grille, and a more rounded look.
The Grand Marquis is now on its third generation, with 2 trims, the LS Fleet and LS Retail trims available. On both models, federally mandated equipment such as side impact airbags and window switches have become standard.
History of the Mercury Grand Marquis