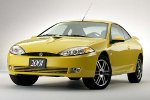 In the history of the Ford Motor Company's Lincoln-Mercury Division, there have been a number of diverse vehicles branded as the Mercury Cougar. As with all vehicles of the Mercury line, the Cougar has a "cousin" or a car in the Ford line that it shares a platform with. With the Cougar, it was the Ford Mustang. In the later generations, though, it became the Thunderbird. The last generation of Mercury Cougars shared the same platform with the Ford Contour. More than anything, the Mercury Cougar became a trendy marketing object for Ford, as the public's attention was captivated by ads of models holding big, leashed felines.
Estimated Price Range for Used Mercury Cougar: $900-$2,000
Estimated MPG for Mercury Cougar: 21 City/31 Hwy
Below are Pre-Owned Mercury Cougar from Ebay and 7 of the top used-car sites on the web:
[phpbay keywords="Mercury Cougar" num="5″ siteid="1″ sortorder="BestMatch" templatename="default" paging="false" category="6001″]
Two Ford plants assembled the Cougar, the Dearborn Assembly plant in Michigan from the first year it was introduced until 1973, and the Lorain Assembly Plant from 1974 until the brand's end in 1997. More than 437,000 Cougars were produced for its first generation. For its second generation, the Cougar's style was changed and had a longer wheelbase. When the third generation Cougar was released in 1974, it was marketed as a personal luxury car. A 20th anniversary edition Cougar was produced in 1987 with special items such as an exterior in cabernet red, midnight smoke moldings, Mustang BT wheels, and even a book detailing the Cougar's history.
The Cougar was affected by Ford's restructuring plan in 2002. Along with other Ford lines, the Cougar was decided to be discontinued. Unfortunately, the last generation of Cougars, which was aimed at the youth market, was also plagued with problems with its brakes and engine design, among others.
Mercury Cougar Review