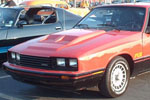 The name Mercury Capri is a brand that has been used by the Ford Motor Company over its long history. The Capri line of cars is associated with Lincoln-Mercury division of Ford in North America. Starting in the 1950s, the Capri has been produced, giving homage to the island of Capri in Italy. In the European market, the Capri is known as the "Ford Capri", having 2 doors and a trunklid that is classified as "short" and was later redesigned as a hatchback in 1975. All Capris were manufactured in the Ford plant in Cologne, Germany, whether it was the North American or European versions. The European version was later made available in the U.S. in 1970.
Estimated Price Range for Used Mercury Capri: $2,000-$10,000
Estimated MPG for Mercury Capri: 21 City/26 Hwy
Below are Pre-Owned Mercury Capri from Ebay and 4 of the top used-car sites on the web:
[phpbay keywords="Mercury Capri" num="5″ siteid="1″ sortorder="BestMatch" templatename="default" paging="false" category="6001″]
Aesthetic changes were made to the Capri in 1973. The car's interiors, grille, tail lights, and wiring harness were redesigned. In 1979, the Ford Mustang was also branded as the Mercury Capri, having a Fox chassis. This marked the start of the second generation Mercury Capri. Throughout its second generation, until 1986, no major changes happened to the Capri. An addition of a "bubble back", or a hatchback coupled with a compound window on the rear, with new taillights and a redesigned rear bumper were the only changes, happening in 1983. A front air dam was added to the high performance model of Capri in 1984. These modifications continued until the Mercury Capri was discontinued in 1986.
The Mercury Capri had resurgence in Australia from 1989 to 1994. To rival the Mazda Miata, Ford Australia produced a Ford Capri. This model was imported to North America and sold as the Mercury Capri. A minor change that was made for the North American version was a redesign of the cabin. This was done in order to have space for an airbag, a standard safety feature for American vehicles, which was not yet standard in Australia.
Mercury Capri Review