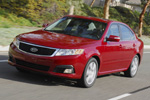 A four-door sedan released by Kia motors in 2000, the Kia Optima is the predecessor of Kia Credos. This model has two other names being used in the market: Kia Lotze (in Korea) and Kia Magentis (in Europe).
Kia Motors released two generations of this model with the following specifications presented in comparison:
First Generation Models (MS) Second Generation Models (MG)
Engine 2.4 L Sirius II I4 2.0 L I4
2.5 L Delta V6 2.4 L Theta I4
2.7 L Delta V6 2.7 L Mu V6
Transmission 4 – speed automatic 5 – speed Sportmatic Automatic
5 – speed manual 5 – speed manual
Wheelbase 106.3 inches 107.1 inches
Length 185.8 inches 189 inches (2009-up models)
Width 71.5 inches 107.1 inches
Height 55.5 inches 58.3 inches
They have also revised the interior of the Kia Optima. They have a redesigned instrument cluster and a satellite AM/FM/MP3/CD with auxiliary jack. In the North American market, they have additions like a different grille, push-button start and LED tail lights.
Base MSRP for New Kia Optima: $19,200
Estimated Price Range for Used Kia Optima: $1,300-$5,000
Estimated MPG for Kia Optima: 22 City/34 Hwy
Available Trims: Base, SE, LX
Below are Pre-Owned Kia Optima from Ebay and 7 of the top used-car sites on the web:
[phpbay keywords="Kia Optima" num="5″ siteid="1″ sortorder="BestMatch" templatename="default" paging="false" category="6001″]
Kia Optima Review