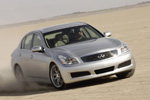 The G35 is a rear-wheel drive aimed at the entry level luxury-sports sedan market. It is the third-generation in the G series of Infiniti, Nissan Motors' luxury car division. A replacement to the G20, the Infiniti G35 was launched in the US market for the 2003 model year.
The G35 received good reviews from the automotive press with Motor Trend magazine naming it as Car of the Year for 2003. The G35 was a sales success despite being priced higher than its G20 predecessor. The G35 is based on the Nissan FM platform wherein the FM initial stands for "front midship" design that had the engine moved back towards the rear of the engine bay to improve weight distribution.
The G35 is powered by the VQ35DE engine for both its sedan and coupe versions. Both body designs are available either with five-speed automatic or six-speed manual transmission. A G35x all-wheel drive version is also available but only with automatic transmission.
Estimated Price Range for Used Infiniti G35: $5,700-$25,000
Estimated MPG for Infiniti G35: 17 City/24 Hwy
Available Trims: Base, Coupe
Below are Pre-Owned Infiniti G35 from Ebay and 5 of the top used-car sites on the web:
[phpbay keywords="Infiniti G35″ num="5″ siteid="1″ sortorder="BestMatch" templatename="default" paging="false" category="6001″]
Infiniti G35 Drag Racing