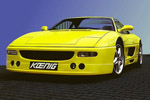 The replacement for Ferrari 348, the F355 is a mid-engine, rear-wheel drive, 2-seater coupe. Compared to Ferrari 348, the engine displacement has been increased from 3.4 L to 3.5 L and has a 5-valve cylinder head. It was considered more powerful because it produces 375 hp. This has also been one of the most common Ferraris having 11,273 unit sold. F355 have been launched in two models. These are the coupe Berlinetta and the GTS. The convertible version of F355 called Spider was released later in 1995. By 1997, they have introduced a paddle gear shift electrohydraulic manual transmission Ferrari 355 called Ferrari 355 F1.
They have also released in 1995 109 units of F355 Challenge. This has the exact same specifications and performance as the original F355 with exceptions on the racing seats, roll cage and downforce wings, which they have added on the original. This model was made for the specific use for the Ferrari Challenge.
The final model they have released for F355 is the 355 Serie Fiorano. Only 100 unit have been made for this and was released in 1999 at Geneva Salon 1999 alongside 360 modena. The differences of this with the original are:
• A bit lower than the other 355 models
• Has a special handling package with the following inclusions:
o Direct ratio steering box
o Vented discs
o Stiffer spring rate
o Remapped fuel chips and
o Racing brake pads
o Doorsills and console with carbon fiber accents
o Suede covered steering wheel
The Serie Fiorano cars can be identified by the plaque with numbers on the dashboard and are Spiders.
Estimated Price Range for Used Ferrari F355: $35,000-$58,000
Estimated MPG for Ferrari F355: 10 City/15 Hwy
Available Trims: Base, Spider, Berlinetta, GTS
Below are Pre-Owned Ferrari F355 from 4 of the top used-car sites on the web:
Tribute to the Ferrari F355