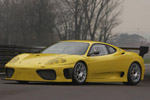 Produced in the later part of 1999 until 2005, the Ferrari 360is the replacement for the luxury car 355. Ferrari has partnered itself with Alcoa for this specific model. They have made an entirely new space-frame chassis that is all aluminum. This is 28 percent lighter and 40 percent stiffer than that of the 355 but has increased the dimensions by 10 percent. The body was rounded unlike the previous one, which has more angles.
Engine displacement increased, which now is 3.6 L, making it more powerful than the 355. It also has a lighter frame thus making its 0 to 100 km/h-acceleration performance better with only 4.4 seconds from 4.6 seconds in the previous model. In the Challenge version of this model, it is even better with the 0 to 100 km/h acceleration performance of 4.0 seconds.
Estimated Price Range for Used Ferrari 360: $74,000-$110,000
Estimated MPG for Ferrari 360: 11 City/15 Hwy
Available Trims: Base, Spider, Modena
Below are Pre-Owned Ferrari 360 from Ebay and 2 of the top used-car sites on the web:
[phpbay keywords="Ferrari 360″ num="5″ siteid="1″ sortorder="BestMatch" templatename="default" paging="false" category="6001″]
Ferrari has released seven versions of 360. These are:
• Ferrari 360 Modena – a road model with a 6-speed manual transmission or F1 electrohydraulic shift. Have been named after Enzo Ferrari's (founder of Ferrari S.P.A.) birthplace,
• Ferrari 360 Spider – the convertible version of the 360 Modena, which has the exact same specification with the 360 Modena except for the weight,
• Ferrari Challenge Stradale – a variant of 360 Modena that was inspired by the F1 electrohydraulic shift 360 Challenge
• Ferrari 360 Challenge – the circuit racing car version of the 360 with F1 electrohydraulic shift stripped out
• Ferrari 360 GT – the more extreme version of the 360 Challenge
• Ferrari 360 GT-S – a variant of the 360 GT that was with the 360 Challenge Stradale parts frothe N-GT competition
• Ferrari 360 Barchetta – a wedding present for the Ferrari President.
Ferrari 360 Review