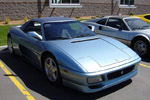 The successor of the Ferrari 328, this model has 3.4 L engine displacement and 4-valve per cylinder V8 engine. Changes of the 328 are:
• Having a Dual-computer, double redundant ABS or Anti-lock Braking System Self diagnosing air conditioning system and heater
• Having an OBDI engine management system
• Relocation of the oil and coolant radiators to the sides from the nose
• Waist widening that resulted to the wide doors and faster cooling of the cabin since the hose of warm water does not pass under cabin
• Usage of "dry-sump" oil systems thus preventing oil starvation at high speeds
• Removal of the rear sub-frame and
• Independently adjustable suspensions for ride height.
Estimated Price Range for Used Ferrari 348: $37,000-$50,000
Estimated MPG for Ferrari 348: 13 City/18 Hwy
Available Trims: Spider, Grand Touring Targa, TS, TB
Below are Pre-Owned Ferrari 348 from Ebay and 3 of the top used-car sites on the web:
[phpbay keywords="Ferrari 348″ num="5″ siteid="1″ sortorder="BestMatch" templatename="default" paging="false" category="6001″]
The 348 has been released in 1989 and continue to sell until 1995. By 1993, Ferrari made some changes on 348. They added more power making it 312 hp (US) and 320 hp (Europe) form the same 3.4 L engine. This was made possible by changing the exhaust. They have named these new cars as 348 GTB and 348 GTS. Both have body color for the lower body instead of black like the previous models. Due to the insertion of the spacers, the rear track has increased in length by one inch.
In 1994, the company made a much more powerful model. They call this 348 GT Competiziones or GTC. These have 360 hp to 500 hp and have Kevlar front and rear bumpers, seats and door panels.
Test Driving the Ferrari 348