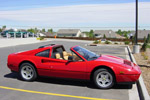 The Ferrari 328 is the successor of Ferrari 308. This has been based on this model with a few modifications added. This includes:
• Increase in engine displacement from the previous 3.0 L to 3.2 L,
• Profile wedge has been softened,
• Have a more rounded nose,
• Have rounded tail,
• Nose and tail have featured body color bumpers with valance panels,
• New designs for its interiors,
• Revised door panels,
• More modern switch gears,
• Front lid radiator exhaust air louvre have been increased,
• Removal of the exhaust air louver from the retractable headlight pods, and
• New style of exterior door catch along with its position.
Optional equipments for this model are:
• Metallic paint,
• Air conditioning,
• Leather headlining for the retractable roof,
• Leather dashboard,
• Rear aerofoil, and
• Pirelli P7 tires.
Estimated Price Range for Used Ferrari 328: $30,000-$90,000
Estimated MPG for Ferrari 328: 13 City/17 Hwy
Available Trims: GTS, GTB
Below are Pre-Owned Ferrari 328 from Ebay and 3 of the top used-car sites on the web:
[phpbay keywords="Ferrari 328″ num="5″ siteid="1″ sortorder="BestMatch" templatename="default" paging="false" category="6001″]
This model has been considered as one of the most reliable Ferraris because one can do maintenance without lifting the engine from the car.
The 328 has two types the GTB or the Gran Turismo Berlinetta and the GTS or the Gran Turismo Spider. There are also GTB and GTS Turbo. This has been made to negate the tax concessions. The changes for these models are focused on the engine, which includes engine displacement of 1991 cc instead of the usual 3.2 L.
The name 328 was produced to indicate the total cubic capacity of the engine. 32 to represent the 3.2 L engine displacement and the 8 for the number of cylinders.
Test Driving the Ferrari 328