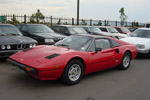 The Ferrari 308, launched in the 70's up to the 80's, was the replacement for the Dino 246. It was introduced in 1975 at the Paris Motor Show to be the supplement for Dino 308 T. Ferrari 308 GTB/GTS was a 2-seater and became one of the most recognized Ferrari road cars. Leonardo Fioravanti designed this car. He was also responsible for the design of Dayton, Dino and Berlinetta Boxer.
The 308 is a lightweight car weighing only 1,050 kg or 2,315 pounds. This was because the body is made of glass-reinforced plastic or GRP. But, by 1977, 308 switched to steel, adding 150 kg or 331 pounds in weight. This model has been the most common of Ferrari cars. They have sold more than 12,000 units of this however there are only 712 units made for the fiberglass dry-sump version. The latter model was one of the most sought after cars by collectors.
In 1980, a Bosch K-Jetronic mechanical fuel injection was added to the car making it drop the power to 214 hp from the previous 255 hp. This addition also decreases its emissions. By 1982, they have added the 4-valve per cylinder Quattrovalvole (QV) and regained its power. This additional restores its power to 245 hp and brought back its performance. A notable trivia about this car is that this was the car used on the Magnum P.I. television show in 1977. This show has used several cars and changed its cars every new season. After the season ended, they auction off the cars.
[phpbay]Ferrari 308,10,6001[/phpbay]
Test Driving the Ferrari 308