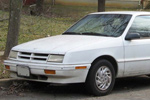 Peter Pan was known to be the boy who accidentally left his shadow as to not get caught when he attempted to escape. Well, let him leave but you are definitely staying for your Dodge Shadow.
This remarkable creation was built to protect and impress with the following engine variants:
2.2 L K14
2.2 L Turbo I14
2.2 L Turbo IV 14
2.5 L K14
2.5 L Turbo 14
3.0 L Mitsubishi 6G72 V6
Drive full throttle with a choice of 5-speed manual, 3-speed A415 automatic and the 4-speed A604 automatic. The Dodge Shadow is very roomy but you can still opt for the 2-door sedan or the four door type.
If you have a habit of bringing your dog out opt for the Dodge Shadow 5-door hatchback. You can also choose over the 2-door convertible which would make girls turn into marshmallows and the 3-door hatchback for your groceries.
Estimated Price Range for Used Dodge Shadow: $1,600-$3,000
Estimated MPG for Dodge Shadow: 19 City/22 Hwy
Available Trims: Base, ES
Below are Pre-Owned Dodge Shadow from 3 of the top used-car sites on the web:
Dodge Shadow Road Test