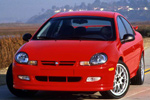 Once you take the Dodge Neon for a spin, the orchestra of the sounds emanating from the well-tuned suspension enables the driver to maneuver tight corners with a perfect hand.
The Dodge Neon is a 4 cylinder car  that has great power especially at the onslaught of economy cars in the mid-nineties. In 2000, the Dodge Neon re-entered the market and failed to light up the faces of its avid followers.
The new version was a lot heavier than the original which means its fuel efficiency has lost its ground. If there was an adjective to describe the original version of the Dodge Neon then it would be – sparkling. If  Chrysler would resurrect the platform for the Dodge Neon and come up with a new name then it should be the Dodge Sparkle — a fitting name for brightening the lives of Americans some decades ago.
Estimated Price Range for Used Dodge Neon: $399-$1,800
Estimated MPG for Dodge Neon: 22 City/29 Hwy
Available Trims: ES, SXT, Highline, Sport
Below are Pre-Owned Dodge Neon from 8 of the top used-car sites on the web:
Dodge Neon Road Test