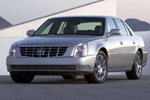 Better known as the Cadillac DeVille's successor to the flagship status, the Cadillac DTS is the smaller version of its full-size predecessor. The DTS successfully restored Cadillac's reputation as a maker of cars with elegant styles, powerful V8 engines, and spacious interior.
A traditional Cadillac vehicle for the traditional Cadillac customer that's what DTS is known for in the U.S. auto industry. The rich heritage of the Cadillac DTS, which is largely attributed to the DeVille's qualities, is a premium package for its price. Compared to other luxury sedans on the market, the DTS is relatively less expensive.
Available in base, luxury, and performance trim levels, the most recent DTS models come equipped with 4.6-liter V8 engines that generate 292 horsepower on the performance trim level and 275 horsepower on the base and luxury trim levels. The power from the engine is sent by a four-speed automatic transmission to the front wheels.
Estimated Price Range for Used Cadillac DTS: $3,700-$15,000
Estimated MPG for Cadillac DTS: 15 City/22 Hwy
Available Trims: base
Below are Pre-Owned Cadillac DTS from Ebay and 7 of the top used-car sites on the web:
[phpbay keywords="Cadillac DTS" num="5″ siteid="1″ sortorder="BestMatch" templatename="default" paging="false" category="6001″]
Cadillac DTS Review