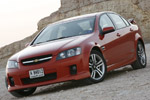 The Chevrolet Lumina sedan was launched with a minivan version (Lumina APV) in 1989 for the 1990 model year. The sedan–minivan Lumina tandem, however, caused some market confusion and the Lumina APV was dropped in favor of the Chevrolet Venture in 1997. The aero-designed Chevrolet Lumina sedan though turned out as a better seller that its twin APV van, and went on production for two generations. The first-generation Lumina models of 1990-1994 were available in two-door coupe and four-door sedans. There were three engine options: 2.5 L Iron Duke I4, 3.1L LH0 V6. 3.4L LQ1 V6. For transmissions the choices are: five-speed manual, three-speed 3T40 automatic, four-speed 4T60 automatic, and four-speed 4T60-E automatic.
Estimated Price Range for Used Chevrolet Lumina: $500-$9,000
Estimated MPG for Chevrolet Lumina: 17 City/27 Hwy
Available Trims: Euro, LTC, APV, LS
Below are Pre-Owned Chevrolet Lumina from Ebay and 7 of the top used-car sites on the web:
[phpbay keywords="Chevrolet Lumina" num="5″ siteid="1″ sortorder="BestMatch" templatename="default" paging="false" category="6001″]
In the second generation of the Chevrolet Lumina from 1995 to 2001, body style available is only for a four-door sedan and three engine choices: 3.1L L82 V6,3.4 L LQ1 V6, 3.8 L L36 V6. Transmission options are for either a four-speed 4T60-E automatic or a four-speed 4T65-E automatic.
Chevrolet Lumina Review