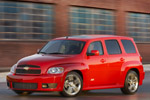 Car aficionados with a nostalgia for the looks of vintage cars will be pleased with the Chevrolet HHR (Heritage High Roof). It was introduced in 2005 for the 2006 model year by General Motors' Chevrolet division as a compact crossover SUV (sport utility vehicle).
But what makes the Chevrolet HHR stand out is its retro-style that was inspired by the Chevrolet cars and trucks during the mid-1940s, particularly the 1949 Chevrolet Suburban. The HHR's design mimics the Suburban with its hemispherical grille and large, square fender flares.
Estimated Price Range for Used Chevrolet HHR: $1,000-$35,000
Estimated MPG for Chevrolet HHR: 20 City/28 Hwy
Available Trims: base, SS, LT
Below are Pre-Owned Chevrolet HHR from Ebay and 3 of the top used-car sites on the web:
[phpbay keywords="Chevrolet HHR" num="5″ siteid="1″ sortorder="BestMatch" templatename="default" paging="false" category="6001″]
For a small compact SUV, the Chevrolet HHR has a large cargo payload, with 62.7 cubic feet in the panel and 57.7 cubic feet in the passenger version. Other Chevrolet HHR features include a fold-flat front passenger seat and flat load floor. Four trim levels in the 2007 model year: Special Edition, LS, LT, and 2LT. For 2007, a panel van variant was included exclusively for the LT trim, but this version became available in 2008 for all trim levels.
Chevrolet HHR Review