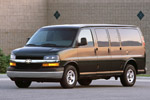 The Chevrolet Express is a full-size van that General Motors also sells in its own lineup as the GMC Savana. Together, these two vehicle brands account for almost 45% of the US full-size van market and are just a few notches behind their competitor, the E-Series of Ford Motors.
The Chevrolet Express, introduced in 1996, is more popular than the Savana, outselling its GM cousin by more than 3 to 1. Since its introduction, the Chevrolet Express has underwent several refinements including a refitting with LS engines and an update of its sheet metal similar to that used in the GMT 800 SUVs and trucks.
Estimated Price Range for Used Chevrolet Express: $2,000-$32,000
Estimated MPG for Chevrolet Express: 13 City/17 Hwy
Available Trims: base, LT, LS, Sport
Below are Pre-Owned Chevrolet Express from Ebay and 5 of the top used-car sites on the web:
[phpbay keywords="Chevrolet Express" num="5″ siteid="1″ sortorder="BestMatch" templatename="default" paging="false" category="6001″]
In 2004, all Express passenger vans were equipped with Stabilitrak for better stability control. For 2006, the 6.6L Duramax Diesel V8 was made available as an option. The van interiors were updated in 2008, and all passenger models were fitted with side impact roof airbags.
Chevrolet Express Review