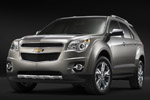 The Chevrolet Equinox can claim to parentage from several sources across the globe. This first mid-size crossover SUV (sports utility vehicle) from Chevrolet has its 3.4L LNJ V6 engine made in China by Shanghai GM.
The Equinox's AF33 transmission is manufactured by Aisin in Japan. These components along with other major parts are assembled at the Canada GM/Suzuki joint venture CAMI Automotive, in Ingersoll, Ontario, Canada. One minor exception here is the 2008 Equinox Sport which is fitted with a 3.6L V6 engine which is made in the US.
This Chevrolet Equinox sport model's more powerful engine enables the SUV to accelerate from 0 to 60 mph in less than 7 seconds and boosts horsepower from earlier versions to 264 hp, up by more than 40%. Exterior styling in this variant is also slightly different, and it sports a six-speed automatic transmission and 18-inch wheels.
Estimated Price Range for Used Chevrolet Equinox: $2,000-$37,000
Estimated MPG for Chevrolet Equinox: 22 City/32 Hwy
Available Trims: base, LTZ, LT, LS
Below are Pre-Owned Chevrolet Equinox from Ebay and 7 of the top used-car sites on the web:
[phpbay keywords="Chevrolet Equinox" num="5″ siteid="1″ sortorder="BestMatch" templatename="default" paging="false" category="6001″]
Chevrolet Equinox Review