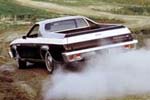 A coupe utility vehicle, the Chevrolet El Camino was based on an existing and modified platform—the two-door station wagon Brookwood and its sedan delivery version.
The El Camino first came into production between 1959 and 1960, which was resumed from 1964 to 1987. Despite its car pedigree, the Chevrolet El Camino is classified as a truck in North America. General Motors has its own variant of the El Camino, the GMC Sprint which was later renamed as the GMC Caballero and marketed as such from 1978 to 1987.
In the Mexican market, the El Camino sometimes goes by the name Chevrolet Conquistador. Lukewarm consumer response met the introduction of the El Camino in 1959-1960, and it was only in 1964 that the market appeared ready for a utility coupe. The second generation Chevrolet El Camino of 1964 was based on the Chevelle, and fared much better as this series lasted to a fifth generation till 1987.
Estimated Price Range for Used Chevrolet El Camino: $1,000-$50,000
Estimated MPG for Chevrolet El Camino: 15 City/20 Hwy
Available Trims: base
Below are Pre-Owned Chevrolet El Camino from Ebay and 6 of the top used-car sites on the web:
[phpbay keywords="Chevrolet El Camino" num="5″ siteid="1″ sortorder="BestMatch" templatename="default" paging="false" category="6001″]
Chevrolet El Camino Burnout