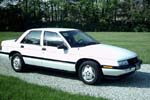 The Chevrolet Corsica rolled into the streets in 1987 first as fleet cars of rental companies and other large businesses. Significant consumer acceptance met this front-wheel drive, mid-sized car when it was subsequently introduced into the mainstream market.
It emerged among the best selling cars in 1988 in the American market. Body styles of the Chevrolet Corsica consist of a four-door sedan and a five-door hatchback. This car was a mainstay in the Chevrolet lineup till 1996.
Estimated Price Range for Used Chevrolet Corsica: $2,000-$6,000
Estimated MPG for Chevrolet Corsica: 18 City/27 Hwy
Available Trims: base, LT
Below are Pre-Owned Chevrolet Corsica from Ebay and 3 of the top used-car sites on the web:
[phpbay keywords="Chevrolet Corsica" num="5″ siteid="1″ sortorder="BestMatch" templatename="default" paging="false" category="6001″]
Intervening years from its launch saw several engine variations with a 2.8L LB6 V6 engine as standard during the 1987-1989 and 3.1L Gen III V6 in the 1994-1996 iterations. Transmissions available during the Chevrolet Corsica production years include five-speed manual, three-speed automatic and four-speed automatic. The Corsica is a kin to the Pontiac Tempest, both being built on the L-body platform. Corsica was produced in GM's facilities in Linden, New Jersey and in Wilmington, Delaware.
Chevrolet Corsica Burnout