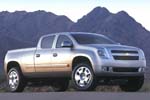 The Chevrolet Cheyenne belongs to the second generation of General Motors' C/K full-size pickup truck series. The C/K pickup series were launched in 1967, and it was in 1971 when the Cheyenne first appeared as an additional trim package in the Chevrolet series.
GMC also produced the same trim in its lineup and called it the Sierra. Comfort and body accents were the main enhancements that went into the Chevrolet Cheyenne such as more padding and insulation, more stylish interiors, chrome trim, carpet, tailgate trim, and upper and lower side molding.
Factory-installed AM/FM radios also made their first appearance in these pickup trucks. There is also a concept car called the Chevrolet Cheyenne which was unveiled in the 2003 North American International Auto Show. This pickup truck sports some innovations not yet applied to production vehicles such as side access doors to load and unload cargo. It has a supercharged 6L V8 engine capable of 500 hp.
Estimated Price Range for Used Chevrolet Cheyenne: $2,000-$30,000
Estimated MPG for Chevrolet Cheyenne: 22 City/33 Hwy
Below are Pre-Owned Chevrolet Cheyenne from Ebay:
[phpbay keywords="Chevrolet Cheyenne " num="5″ siteid="1″ sortorder="BestMatch" templatename="default" paging="false" category="6001″]
Chevrolet Cheyenne Commercial