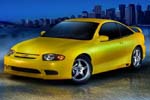 The Chevrolet Cavalier was General Motors' entry in the compact car market segment from 1982 to 1985 during which it became one of the best selling automobiles in the US. The Cavalier was built on GM's J platform, an inexpensive front-wheel drive design that General Motors used in its cars during the 1980–1990 period.
There are three generations of Cavaliers, with the first having options for two 4-cylinder pushrod engines, and two- and four-door sedan, hatchback and station wagon body styles. Fresh styling and modified V6 engines were incorporated in the second-generation Chevrolet Cavaliers.
The two-door sedan and hatchback bodies were abandoned for the coupe, but other body styles remained. A redesign in the Chevrolet Cavalier third generation saw all models with four-cylinder engines, expanded dimensions and a styling that departed markedly from the boxier designs of the earlier generations. The wagon gave way to the return of the coupe, sedan and convertible body styles.
Estimated Price Range for Used Chevrolet Cavalier: $2,000-$22,000
Estimated MPG for Chevrolet Cavalier: 20 City/29 Hwy
Available Trims: base
Below are Pre-Owned Chevrolet Cavalier from Ebay and 6 of the top used-car sites on the web:
[phpbay keywords="Chevrolet Cavalier" num="5″ siteid="1″ sortorder="BestMatch" templatename="default" paging="false" category="6001″]
Toyota, under an agreement with General Motors, briefly sold the third-generation Cavalier in Japan as part of the Japanese company's efforts to avoid US export restrictions. These Toyota Cavaliers were of right hand drive design and sported wider front fenders, leather-wrapped steering wheel and shift knob, among other upgrades.
Chevrolet Cavalier Commerical