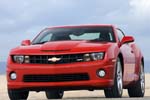 Avid fans of the Trans-Am car racing series will be most familiar with the Chevrolet Camaro which had a string of titles in this competition during the late 1960s and in the 1990s.
The Camaro has also figured prominently in the Australia Touring Car Championship and the International Race of Champions, aside from being a favorite of drag racers and hotrod racers. The Chevrolet Camaro was launched in 1966 for the 1967 model year as a pony car to directly compete against the Ford Mustang.
Its sibling in the GM stable is the Pontiac Firebird with which the Camaro shares its platform and major components. The Chevrolet Camaro evolved into four generations during its market appearance from 1967 to 2002. The Camaro was revived in its fifth-generation this year with the first units going on sale in spring 2009 as a 2010 model with choices of either a V6 or V8 engine.
Estimated Price Range for Used Chevrolet Camaro: $2,000-$24,000
Estimated MPG for Chevrolet Camaro: 13 City/17 Hwy
Below are Pre-Owned Chevrolet Camaro from Ebay and 6 of the top used-car sites on the web:
[phpbay keywords="Chevrolet Camaro" num="5″ siteid="1″ sortorder="BestMatch" templatename="default" paging="false" category="6001″]
Chevrolet Camaro Review