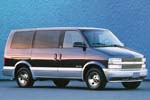 The rear-wheel drive minivan Chevrolet Astro was introduced in 1985 but it remains popular up to these days. This popularity emanates from the vehicle's suitability as a conversion van that could be outfitted with extras designed either for camping or road trips.
The Astro shares the same platform as its sibling, the GMC Safari, and utilizes the same powertrain components as General Motors' light trucks. Unlike GM trucks, however, the Astro's chassis structure is unibody in design, featuring a front sub-frame supporting the front suspension and the engine.
The truck-based powertrain of the Chevrolet Astro enables the vehicle to pull loads of up to 2,500 kg (5,500 lbs), given the proper towing equipment. This Astro towing capacity favorably compares with the 2,300 kg (3, 500 lbs) limit of front-wheel drive minivans. An eight-passenger seater, the Astro's engine options range between 145 hp and 190 hp, depending on model year and/or options.
Estimated Price Range for Used Chevrolet Astro: $1,000-$16,000
Estimated MPG for Chevrolet Astro: 14 City/20 Hwy
Available Trims: base, LS
Below are Pre-Owned Chevrolet Astro from Ebay and 7 of the top used-car sites on the web:
[phpbay keywords="Chevrolet Astro" num="5″ siteid="1″ sortorder="BestMatch" templatename="default" paging="false" category="6001″]
Chevrolet Astro Burnout