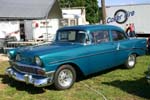 The Chevrolet 210 (Two-Ten) was introduced by General Motors in 1953 as a midrange market entry between its basic One-Fifty and the glitzy Bel Air. This balance of style and luxurious amenities of the Two-Ten endeared the car to the consumers.
As a result, the car emerged as the top selling Chevrolet model in 1953 and 1954. In its initial year, Chevrolet 210 was available in the widest choice of body designs, with a convertible, station wagon, sports coupe hardtop, and two- and four-door sedans for consumers to choose from.
Estimated Price Range for Used Chevrolet 210: $2,500-$60,000
Available Trims: base
Below are Pre-Owned Chevrolet 210 from 3 of the top used-car sites on the web:
Two-Ten convertibles and hardtops were not included in the 1954 models. However, a deluxe version branded the Del Ray Club coupe was introduced and offered each year till 1957. Luxury options available in the Bel Air were likewise offered in the Chevrolet 210, such as power window lifts, seat adjuster and Powerglide automatic transmissions. And like the Bel Air, the Two-Ten is also valued by today's car collectors, particularly the Del Ray Cub coupe.