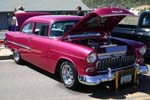 General Motors manufactured the Chevrolet 150 (or One-Fifty) as a fleet/economy market offering from 1953 to 1957. The One-Fifty became popular as fleet service vehicles for state governments, police and small businesses, as well as private cars for economy-minded automobile owners and hot rodders.
The Chevrolet 150 was essentially a basic car with no frills, solid colors, rubberized flooring and plain heavy duty upholstery. Stark trim, the One-Fifty had few options and small amenities like cigarette lighters and ashtrays are incorporated into the unit at extra costs. Later models of Chevrolet 150, however, came in more stylish designs than the earlier iterations as interior improvements and stainless steel side trimmings became standard in all Chevy cars.
Estimated Price Range for Used Chevrolet 150: $2,000-$50,000
Available Trims: base
Below are Pre-Owned Chevrolet 150 from 2 of the top used-car sites on the web:
One-Fifty body styles to choose from were limited to sedans, wagons and the club coupe which became available only in the 1955 model year. Low output engines and manual transmissions were the standard for all Chevrolet 150 model years except in the 1957 variants which included a full race-ready version.