The 2012 Toyota Prius C is most notable for its high affordability and exceptional gas mileage, surpassing all other hybrids in its class.
With front wheel drive, the combination gas and electric 1.5 liter four cylinder engine is modest, yet delivers great value for the consumer.
Performance
People are delighted to get 53 miles to the gallon on the highway and 46 miles to the gallon in the city. There are even three driving modes to select from to help you control how much fuel you use, which are Normal, Eco, and EV mode. The exterior looks similar to other Prius models, with the exception for its size which is more compact. There are nine body color options available, with a cozy interior.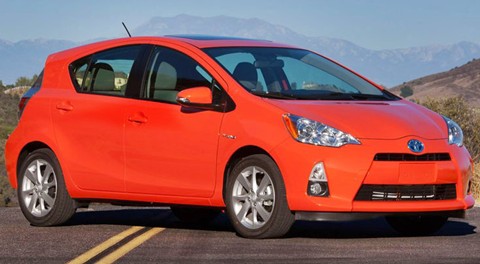 Specifications
General Info

| | |
| --- | --- |
| Vehicle Type: Hybrid Compact | Base Price: $18,950.00 |
| Fuel Tank Capacity: 9.5 gallons (36 liters) | MPG: 53 city / 46 hwy |
Dimensions

| | |
| --- | --- |
| Length: 157.3 in. (399.5 cm) | Wheel Base: 100.4 in. (255 cm) |
| Height: 59.6 in. (151.3 cm) | Width: 66.7 in. (169.4 cm) |
| Curb Weight: 2500 lbs (1134 kg) | Ground Clearance: 5.5 in. (13.9 cm) |
| Luggage Capacity: 17.1 cu ft | Maximum Seating: 5 people |
Performance

| | |
| --- | --- |
| Engine: 1.5L DOHC w/ VVT Hybrid | Motor: Permanent Magnet AC Synchronous |
| Net Horsepower: 99 HP | Max RPM: NA |
| Torque: 125 lb-ft | Transmission: ECVT |
Available Trims & Engine

| | |
| --- | --- |
| Option:Prius c Two | MSRP: $19,900; MPG: 53 city / 46 hwy |
| Option:Prius c Three | MSRP: $21,635; MPG: 53 city / 46 hwy |
| Option:Prius c Four | MSRP: $23,230; MPG: 53 city / 46 hwy |
Safety
The latest Prius C is built with safety in mind. It has a regenerative braking system that gives more power to stop the vehicle in emergency situations, and is a major improvement among hybrids; nine airbags offer protection for everyone in the vehicle; it has excellent traction control & anti-lock brakes. The smart stop technology reduces engine power when the brake and gas pedals are pressed simultaneously.
Reliability & Warranty
This Prius C comes with a three year or 36,000 mile warranty to assure the overall reliability of the vehicle. Additionally, the hybrid parts of this Prius model are under warranty for eight years or 100,000 miles, while the powertrain is also under warranty for five years or 60,000 miles.
Not only that, but customers receive special warranty coverage against rust damage for five years and up to an unlimited number of miles. The Toyota Care plan is also offered for anyone who buys or leases a new Toyota, including a complimentary maintenance plan as well as roadside assistance for the first two years of ownership, or 25,000 miles (depending upon which comes first).
The roadside plan offers such important services as jumpstarting your vehicle, changing flat tires, delivering fluids, towing for emergency situations, and even helping you get back into your vehicle if you become accidentally locked out.
With all of these guaranties, the quality of this 2012 Toyota Prius C is something that buyers can count on.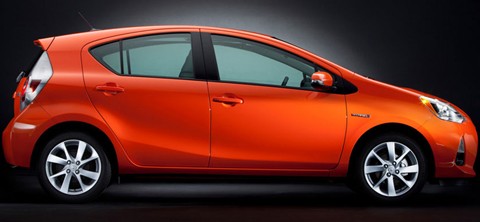 Pros & Cons
The maximum of 99 horsepower offered by the engine doesn't provide much acceleration on hills and for passing on highways; however, this is a common tradeoff for most hybrid cars in general.
It is most comfortable for 4 passengers maximum, although for some people that's all that they need.
The new Prius C is recommended for people who want the most affordable hybrid, those who like small cars to get around town, and for those who want the most fuel efficient vehicle.
Competition
The Prius C is the top fuel efficient vehicle in its class, far outranking other small hybrid vehicles such as the Honda Insight Hybrid (MSRP $19,290; 41 city / 44 hwy) and the Honda Civic Hybrid (MSRP $24,990; 44 city / 44 hwy).
Many people considering a Toyota Prius C compared to the Honda Insight Hybrid, which is cheaper; however, the difference in price is far from the only difference between the two.
The 2012 Toyota Prius C has softer seats, more trunk space, and more overall extra features than its Honda Insight rival, not to mention getting much more gas mileage. For all of these reasons, the new Prius C is the most economical, quality hybrid vehicle of its kind.
Overall Rating


65 out of 100
What others say:
"Although the Prius C looks like a mass-market model, perhaps fitting right in between the Yaris and the Matrix, in keeping with the Prius family traits, it's a unique, hybrid-only body style."Car Connection
"Feels more nimble than sporty. Steering feel is light but dull, and the ride-oriented suspension tuning combined with relatively narrow, economy-minded tires limit grip in fast turns. The Four we tested with optional 16-inch tires had snappier steering response and a bit less body lean."Consumer Guide
"With a smaller footprint and price to match, the 2012 Toyota Prius C should appeal to a whole new range of buyers. Not only does it drive more like a normal car, it's the only subcompact hatchback out there that gets 50 mpg."Edmunds
"Taking Hybrid Synergy Drive (HSD) technology down to its smallest size yet, the 2012 Toyota Prius C – for "City" – arrives on the scene as the latest and most fuel-efficient member of the automaker's ever-expanding Prius family. "KBB