The 2012 Toyota FJ Cruiser looks like the usual SUV behemoth, but it is actually mid-sized, and for an SUV, affordable.
There are people satisfied with the new FJ Cruiser and pleased to use it both off road and as a daily commuting vehicle. Both inside and outside, the FJ Cruiser is simple. People find it comfortable to drive, if not loads of fun.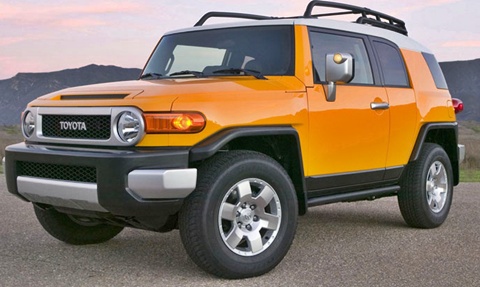 Specifications
General Info

| | |
| --- | --- |
| Vehicle Type: SUV | Base Price: $26,925.00 |
| Fuel Tank Capacity: 19 gallons (72 liters) | MPG: 17 city / 20 hwy |
Dimensions

| | |
| --- | --- |
| Length: 183.9 in. (457.1 cm) | Wheel Base: 105.9 in. (269 cm) |
| Height: 71.3 in. (181.1 cm) | Width: 75.0 in. (190.5 cm) |
| Curb Weight: 4079 lbs (1850 kg) | Ground Clearance: 8.7 in. (22 cm) |
| Luggage Capacity: 27.9 cu ft | Maximum Seating: 5 people |
Performance

| | |
| --- | --- |
| Engine: 24 valve V6 DOHC | Displacement: 4.9 Liter |
| Horsepower: 260 HP | Max RPM: 5600 RPM |
| Torque: 271 lb-ft @ 4400 rpm | Transmission: 5-Speed ECT-I Automatic |
| Max Towing Capacity: 5000 lbs (2268 kgs) | Maximum Speed: NA |
Available Trims & Engine

| | |
| --- | --- |
| Option:4WD Auto | MSRP: $28,855; MPG: 17 city / 20 hwy |
| Option:4WD Manual | MSRP: $28,105; MPG: 15 city / 18 hwy |
The FJ Cruiser is also surprisingly agile, though not agile enough for someone who's looking for a family car that can easily handle off-road terrain. Some have complained about the SUV's poor fuel economy.
Compared to other SUVs, the FJ Cruiser doesn't fare quite as well as the Jeep Wrangler, which has a long and proud history of being able to perform very well off road. The Wrangler also has options like soft or hard roof, or two or four doors, that the FJ Cruiser doesn't. The FJ Cruiser only has one trim and for 2012 it has one new paint color. But, rare for a new SUV, it can come with manual transmission.
Performance
It has a 4.0 liter, V6 engine with 260 horsepower, as well as 271 pound-feet of torque. The standard features include an adjustable steering wheel, voice command, power locks and windows, a stereo system and air conditioning. The FJ Cruiser can seat five and gets 17 miles per gallon in the city and 22 mpg on the highway.
Most reviewers found the FJ Cruiser's performance fairly good, if not as smooth as a car's. It is also praised for its on road "manners," which are more refined than a typical SUV's. But it can labor when it has to go up hills and can have trouble passing on the highway.
Exterior
People love the outside look of this vehicle, mostly because it's so retro and chunky. Some people complained that the design made it a little hard to see everything they wanted to see through the front windshield.
Interior
The FJ Cruiser's interior is simple. Some drivers wanted something a bit sexier. People who liked the interior lauded the fact that the controls were easy and the materials and fabrics were sturdy and water resistant, a must for a vehicle that's meant to spend a lot of time off road.
There is also enough leg and headroom for tall drivers and passengers. However, some people complained that the plastics were hard and "cheap feeling." Others complained that the back seat can be hard to climb into because of the rear suicide doors.
When the second rows of seats are folded, the FJ Cruiser has room for 66.8 cubic feet of cargo. When all the seats are upright, it has room for 279 cubic feet of cargo, which is not as much as most SUVs of its size. More, if the driver wants to fold down the second row of seats the cushions have to be removed beforehand.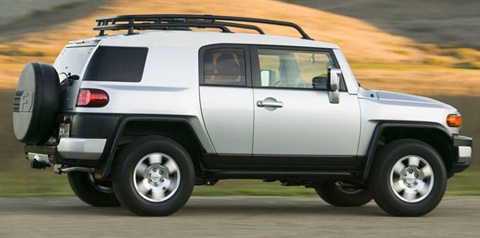 Safety
The Insurance Institute of Highway Safety gave the FJ Cruiser fairly good scores, but again, the exterior design made visibility problematic for a lot of drivers.
Reliability
J.D. Power gave the FJ Cruiser high marks for reliability. The 2012 model has a basic three year or 36,000 mile warranty. All in all, the 2012 Toyota FJ Cruiser is good for every day use, but really comes into its own off road.
Competition
Other vehicles that come close to the FJ Cruiser include the Jeep Wrangler Sport (MSRP $31,915; 16 city / 21 hwy) and the Nissan Exterra (MSRP $25,715; 16 city / 22 hwy).
Overall Rating


70 out of 100
What others say:
"The Toyota FJ Cruiser has changed very little since its introduction five years ago, and during that time the range of serious off-road-worthy models hasn't changed much. Hummer is now gone, and Jeep has honed its Wrangler, but the FJ Cruiser remains one of the better bets for off-road toughness and trail prowess."Car Connection
"Close-quarters maneuverability is good, and stopping control feels more than adequate. The available off-road traction-control system keeps FJ going through very deep ruts and over extra-tall humps."Consumer Guide
"The FJ is based on the 4Runner and is superb off road. Visibility is compromised by the thick roof pillars and small windows, and the rear doors are awkward to use. The V6 is smooth, but fuel economy is 17 mpg. ESC is standard. Reliability has been above average. Crash-test results are excellent, but the FJ scores too low in our testing to be recommended."MSN Auto-ConsumerReports
"It's not the most versatile choice available, but if distinctive looks and outstanding off-road ability are important to you in a midsize SUV, the 2012 Toyota FJ Cruiser is hard to beat."Edmunds
"The 2012 Toyota FJ Cruiser SUV is the modern take on the classic FJ40 Land Cruiser sold round the world from 1960 until the early 1980s."KBB