The 2012 Toyota 4Runner is the latest iteration of the popular model being sold around the world from the mid 1980s.
As a vehicle, the Toyota 4Runner is a joy when it comes to off-road driving and excellent in terms of safety and other features, however, it does get left behind as a family SUV as one can find better choices on offer from the competition.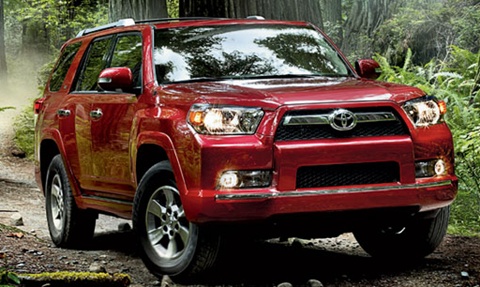 Specifications
General Info

| | |
| --- | --- |
| Vehicle Type: SUV | Base Price: $31,900.00 |
| Fuel Tank Capacity: 23 gallons (87 liters) | MPG: 17 city / 23 hwy |
Dimensions

| | |
| --- | --- |
| Length: 189.9 in. (482.3 cm) | Wheel Base: 109.8 in. (278.8 cm) |
| Height: 71.5 in. (181.6 cm) | Width: 75.8 in. (192.5 cm) |
| Curb Weight: 4400 lbs (1995 kg) | Ground Clearance: 9.0 in. (22.8 cm) |
| Luggage Capacity: 47.2 cu ft | Maximum Seating: 7 people |
Performance

| | |
| --- | --- |
| Engine: V6 DOHC w/ VVT-i | Displacement: 4.0 Liter |
| Horsepower: 270 HP | Max RPM: 5600 RPM |
| Torque: 278 lb-ft @ 4400 rpm | Transmission: 5-Speed ECT-i Automatic |
| 0-60 mph: 7.7 seconds | Max Towing Capacity: 5000 lbs (2268 kgs) |
Available Trims & Engine

| | |
| --- | --- |
| Option:SR5 4×4 | MSRP: $32,830 ; MPG: 17 city / 23 hwy |
| Option:Trail 4×4 | MSRP: $36,755; MPG: 17 city / 22 hwy |
| Option:Limited 4×2 | MSRP: $38,595; MPG: 17 city / 23 hwy |
| Option:Limited 4×4 | MSRP: $40,630; MPG: 17 city / 22 hwy |
Performance
The Toyota 4Runner is an excellent choice for the off-road trails and by nature that's where its magic lies. In terms of SUVs it is one of the best available for anyone looking for adventure on the high roads or even where there are no roads. It is loaded with features and gadgets that make off-road adventures a lot of fun and difficult trails easy to conquer.
Exterior
It gets its styling from the Toyota FJ Cruiser and continues with the boxy and rugged appearance it has had over the years.
Interior
It is extremely spacious and highly functional being packed with features. Seating is comfortable in the first 2 rows but somewhat cramped in the 3rd row for adults. Cargo space is spacious and large for off the road and trail duties but is average when compared to mid-sized SUVs and crossovers.
It has lots of space in the interior that lets you carry all the luggage and gear that you desire and it comes with an optional suspension that lets you drive on tracks and trails that are simply off the norm.
Unfortunately, the features that make the Toyota 4Runner an excellent off-road companion make it somewhat of a cumbersome drive on the road and in the city especially when stacked against some of the competition.
It is somewhat cramped in the 3rd row especially for the adults and also when the 3rd row is used to seat passengers it reduces the cargo space. Also, the suspension makes the drive somewhat uncomfortable when driving through the city though it is a winner off the road.
Safety & Reliability
It is extremely safe and has received good ratings for safety in the event of frontal, rear or side crashes. In terms of a roof accident it has been rated acceptably safe. It comes with 8 airbags, rear sensors for parking and assisted driving for going uphill or downhill.
Other safety features are comparable to similar SUVs and industry standards. In terms of reliability, the Toyota 4Runner comes with a 3-year warranty that covers 36,000 miles which is comparable to other similarly priced SUVs and current industry standards.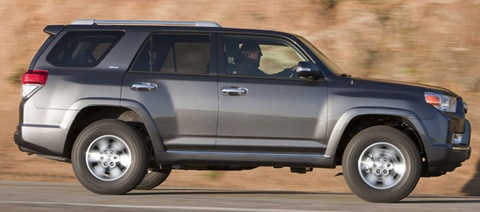 Ideal
The Toyota 4Runner is an excellent choice for hitting the trail and for driving off the road. This SUV is primarily for adventure seekers who prefer to drive off the road and visit remote locations. When compared to other brands of SUVs it is particularly better rated and the preferred choice for off the road driving.
However, it is not ideally suited for city driving and hence your decision on purchasing the Toyota 4Runner will depend a lot on its intended usage. For camping trails and adventure driving the Toyota 4Runner is the preferred choice but it comes second to a crossover for daily driving within the city limits.
The Toyota 4Runner is perfectly suited for the trail without roads or even pavements and especially remote and difficult terrain. It is however not an ideal choice for going to the office, dropping the kids off, going to the supermarket for shopping, or even highway long distance driving.
Competition
SUVs that can be compared to the 4Runner include the Nissan Pathfinder (MSRP $29,765; 15 city / 22 hwy), Ford Explorer (MSRP $32,920; 18 city / 25 hwy), and the Jeep Grand Cherokee (MSRP $31,510; 17 city / 23 hwy). Each of these vehicles are exceptional, it is just a matter of personal preference and what you're looking for in an SUV.
Overall Rating


76 out of 100
What others say:
"Cargo space isn't all that impressive, but the 2012 Toyota 4Runner has good passenger space and a high-quality cabin."Car Connection
"Handling is disappointing, even for a vehicle of this stripe. Body lean is prevalent, even in modest corners. The steering feels sloppy, and nosedive is pronounced, even when braking normally."Consumer Guide
"The 4Runner is good for towing and off-roading, but is not the best family vehicle. The rough-sounding 4.0-liter V6 is powerful and relatively fuel-efficient. The ride is unsettled and handling is mediocre at best. A 'Trail' version is meant for serious off-road use. The 4WD system is a rudimentary part-time system, unless you upgrade to the Limited trim."MSN Auto-ConsumerReports
"Outstanding off-road capability; pleasant on-road demeanor; strong V6 engine; ample cargo capacity; available third-row seat."Edmunds
"If you are looking for an SUV that serves dual purposes – family commuter during the week and an off-road-capable hauling vehicle on the weekend – then add the 2012 Toyota 4Runner to your short list."KBB