Showcased recently at the 2014 Geneva Motor show was the new hybrid crossover concept in the 2014 Subaru VIZIV 2.
VIZIV is a term coined by Subaru, which means Vision for information. The concept has almost similar look as its predecessor, albeit some changes at the front.
While the VIZIV 2 is still a concept, it looks much more like a production ready design.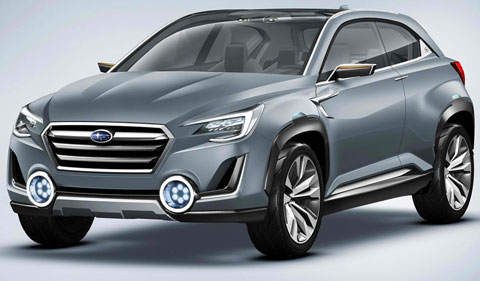 Engine
The VIZIV-2 is expected to be powered by a hybrid powertrain that includes a 1.6 liter turbocharged 4 cylinder diesel engine, 3 electric motors and one Lithium-ion battery pack.
It comes in all-wheel drive with the front wheel being powered by the diesel engine and an electric motor.
The rear wheels are powered by the remaining two electric motors. The diesel unit generates 168 horsepower and 184 lb-ft of torque.
The concept comes with an Eco Cruise mode which utilizes the 'EyeSight' sensing cameras to analyze the road ahead and accordingly tune the engine output to maximize fuel efficiency.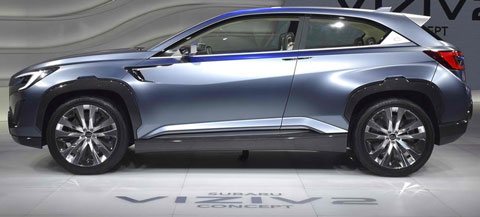 Exterior
The design of the VIZIV 2 is contemporary and gives an impression of a solid build quality. The core shape of the body is hexagonal in nature, and the same is even reflected in the front grille and at the rear.
The C shaped headlamps give an impression of an aggressive car. The round LED fog lamps at the front and rear give it a distinctive look. Large 20-inch alloys and robust bumpers lend the car a solid yet dynamic stance.
Interior
The interior's focus on functionality and safety. The instrument cluster design stresses on ease of use and drivability. The vehicle comes with EyeSight, which is Subaru's advanced driver assistance system and multi-directional sensing system.
There is more than enough room for passengers inside and looks like a comfortable crossover for a family.
There is no official word on when we can expect a production version of VIZIV 2.
However, with incremental changes on the VIZIV, we see Subaru moving closer to a production ready model. Expect the same to hit the roads sooner rather than later.