During the Frankfurt Motor Show, unveiled was the latest in small car design, the 2013 Smart FourJoy Concept.
This concept simply takes the notion of a fun 4-seater to a higher level; there is neither a roof nor a windscreen.
This means, the driver and the passengers will have an unhindered view of the futuristic interior that may remind you of lounge furniture.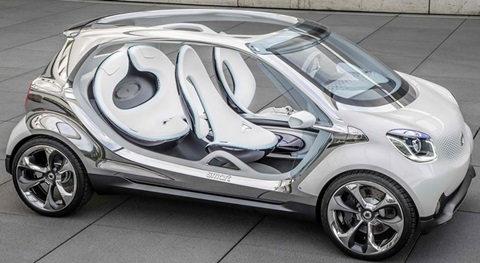 Performance
The Smart FourJoy features a 55 kW magneto-electric motor and a lithium battery with a capacity of 17.6 kWh. When the battery is completely empty, it takes a maximum of 7 hours to fully charge.
This charging time can be shortened to less than one hour when done at a wall box or a public charging station with a 22kW on-board charge together with a rapid charging cable.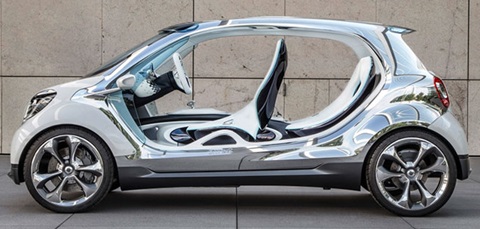 Exterior
The 3-dimensional, upright front gives this car an expensive appearance . At the front, the honeycomb structure of air in-lets and the sensuously shaped body makes the Concept look even better.
The car is made of polished full-aluminum with a brilliant bright luster finish. The headlights do not have any gloss cover; this reinforces the 3-dimensional impression of the U-shaped daytime running lights. There are also LEDs exclusively fitted just in both the front and tail lights.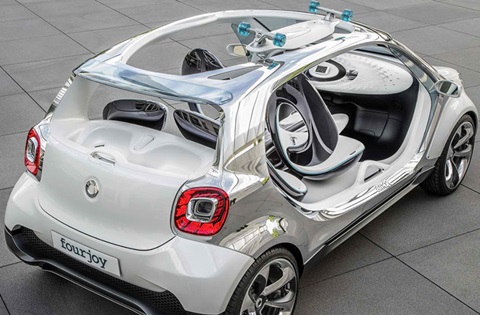 Interior
With no doors, a rear window or even a roof panel, this smart FourJoy brings the city outside, in. Some of the elements that connect the interior and the exterior include the handles for the driver and passenger on the side sills and cavities in the roof structure.
Other striking features are the futuristic-looking seats and a rear bench. The rear seat is made of dark chrome while the floor has perforated and smooth surfaces.
The seats and instrument panel are supported by a continuous structure that features a convex surface on which touch-sensitive operating functions can be found. Two smart-phones are mounted on the car's dashboard and at the center tunnel in the rear for entertainment and cutting-edge connectivity.