The smart knitting robots called SGRs of WWT (Weight Watch Technologies) in Germany create probably one of the most lightweight vehicles in the world. These robots are capable of knitting carbon fiber into different complex shapes and forms that enable the creation of a shape optimizing in strength and weight. With this technology the WWT is able to create the Smart 454 WWT.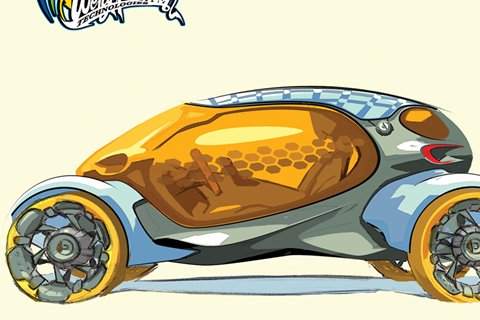 This car is made of lightweight but strong materials. Recyclable plastics are used in making the windows, fenders and bumpers where in the roof, a thin but very sturdy recycled textile that has different designs. Its wheels are made of carbon fiber and have an incorporated suspension that is very lightweight making it impossible to run a flat tire.
This car has a "clip-on" construction principle which allows easy customization which includes easy removal of its doors, roof, engine and drive train. Though not the fastest on the block it's still a fast car and offers perfect functionality, allowing best modification for any event.