The newest member of the Leon line-up combines state of the art technology with amazing emotional design, optimum usability and great versatility.
The 2015 Seat Leon X-Perience will be the only SUV from Seat, and manufactured in Spain with the rest of the Leon line. With an exceptionally high performance and safety, this is definitely the car to look out for.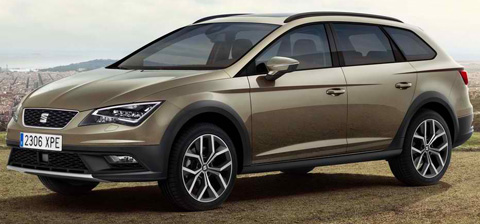 Engine & Performance
Under the hood, the SUV is offered both with gasoline/petrol and diesel variant.
The petrol version comes with 1.8 liter TSI engine. This engine delivers 178 horsepower (180 PS) and with 207 lbs ft of torque (280 Nm). The diesel comes with 1.6 liter TDI and delivers 109 horsepower (110 PS) and with 207 lbs ft of torque (185 Nm).
A higher diesel variant is available and comes with 2.0 liter TDI variant; it produces 149 horsepower (150 PS) with 237 lbs ft of torque (320 Nm). Another option is a 2.0 liter TDI that delivers 182 horsepower (184 PS) with 281 lbs ft of torque (380 Nm).
All the engines will be offered with permanent all-wheel drive.
Exterior
The new model comes with a more rugged appearance compared to the previous model. The X-Perience offers 15 mm increased ride-height, more plastic body cladding and aluminum under-body protection at the rear.
The side has beefier door sills. The car also features black anodized roof-rails and rides on 17-inch wheels with 19-inch alloy wheels being an option.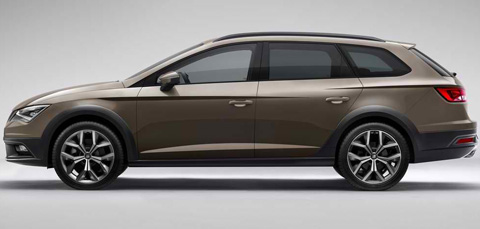 Interior
Inside, the cabin has received brown leather & Alcantara upholstery with unique orange contrast stitching. The car also features special badges and one large 20.7 cu ft (587 liter) trunk. The boot can be increased to 51.9 cu ft (1470 liters) when the rear seats are folded.
As far as technology enhancements, the vehicle has been equipped with special the Seat Easy Connect touch screen with some proximity sensors. You can automatically switch from a display mode to the operating mode when you desire.
Optional features include adaptive cruise control and front assist.