At first glance, the 2014 Renault Kwid Concept appears to be a refugee from a Disney "Cars" production. The French automaker has always had a flair for the unusual and this vehicle certainly continues that tradition.
It is no accident that the Kwid Concept was unveiled at the Delhi Auto Show given it is intended for younger buyers and especially those in emerging markets like India.
You will have to possess high tech skills to utilize its computerized components including the in-dash computer tablet and remote mini helicopter.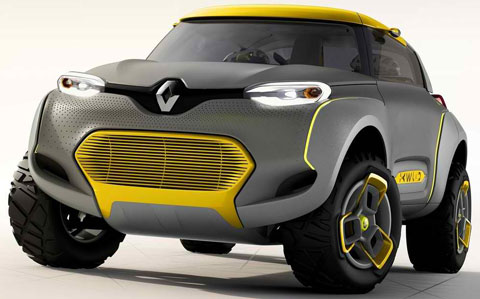 Engine & Performance
The Kwid Concept is powered by a 1.2 liter, turbocharged gas engine capable of generating 120 horsepower. It is paired with a dual clutch automatic transmission.
Though it takes 12 seconds to move from 0-60 miles per hour, it will reach a top speed of 100 mph.
Renault left open the possibility to convert this vehicle to hybrid status by leaving enough room for an electric motor and batteries.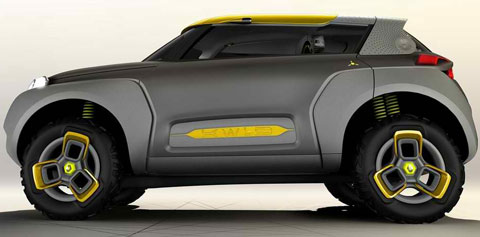 Exterior
The exterior comes in steel gray with bright yellow accents.
Its profile give it a longer appearance than its actual length due to the blackened "A" pillars giving it a floating sensation.
At the rear, that sunshine yellow look is used on the rear fenders, applying a technique make the fenders appear larger than their actual size and in essence creating the illusion of a wider stance.
Above sits a mini remote "chopper", aka "The Flying Companion". It is activated using the tablet in the dashboard. It has a camera which explains its existence to be used as a traffic monitoring device.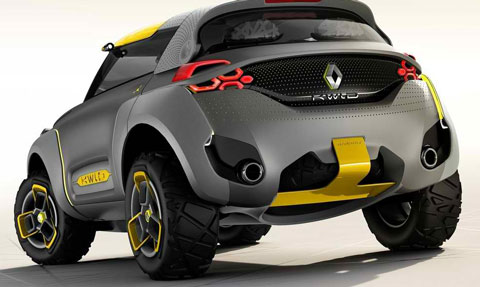 Interior
The interior of the Kwid is bit of a quandary. It is best explained as a bird nest design, but it is more web-like with 3 seats in front and 2 in the back. The driver occupies the center seat in front.
The gold steering wheel is sharp with the instrumentation panel being simple and efficiently controlled by high technology.