Developed in 1999, Porsche Carrera GT, manufactured by Porsche of Germany, is priced at $440,000 dollars. It is well worth its price if we count the 5.7 litre V10 engine producing 612 DIN (605 SAE) horsepower (450 kW) and the acceleration from 0 to 100 km/h (62.5 mph) in 3.9 seconds, touching a maximum speed of 330 km/h (205 mph).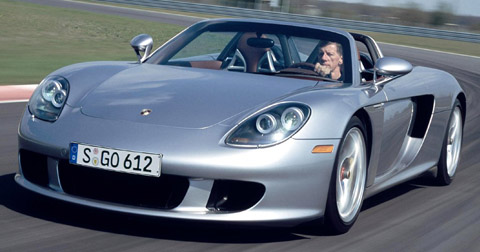 The design is stunning too, Carrera GT has a 5 colors paint schemes that includes: black, guards red, fayence yellow, basalt black, GT silver and seal grey.
The innovating thing about this car is the way that its engine is placed: with the use of a clutch made of a high-tech ceramic material, it`s allowing the engine to sit lower in the chassis than in any other super car. This feature is not only making the Carrera GT a road car with the looks of a race one, but also improves its aerodynamics and lowers its center of gravity.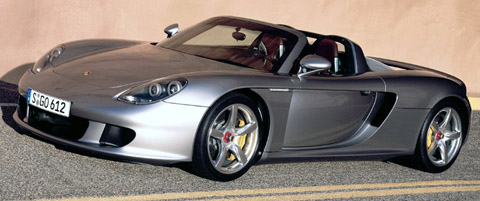 Porche Carrera GT does have traction control even if, like some of its competitions, doesn`t use electronic driving aids such as dynamic stability control.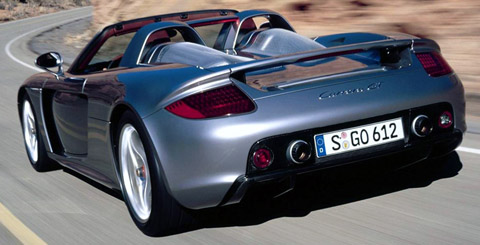 Specifications
Vehicle Type: – 2-door convertible, production car
Price: – $440,000
Configuration: – Mid Engine / RWD
Engine: – V10
Displacement: – 5733 cc
Torque: – 435 lb-ft at 5750 rpm
Horsepower: – 612 bhp at 8000 rpm
Transmission: – 6-Speed Manual
Length: – 181.6 inches
Width: – 75.6 inches
Height: – 45.9 inches
Weight: – 3042 lbs
0-60 mph: – 3.8 sec
Top speed: – 205 mph
Porsche Carrera GT Gembella Mirage in Abu Dhabi

Porsche Carrera GT and BMW M5 drift on public road

Porsche Carrera GT vs Ferrari Enzo racing scene from the movie Redline

Porsche Carrera GT Vs Ferrari 599 GTB Fiorano

Porsche Carrera GT vs Ferrari 599 GTB F1 Fiorano