The Porsche 935 is a sports car launched in the year 1976 which was prepared for the FIA-Group 5 Rules.
The Porsche 935 had participated in a number of championships that includes the Deutsche Rennsport Meisterchaft and IMSA GT Championship.
The Porsche 935 also made its racing debut in the year 1976 where Martini has organized the work team for the FIA World Championship. For the Group 5 rules several modifications have been done which included the bodywork, water cooling, wider axles, and larger wings. It consisted of a 3.0 flat 6 cylinder engine that delivers an output power of 560 hp and the most attractive feature in the car is the flat nose shape at the front part.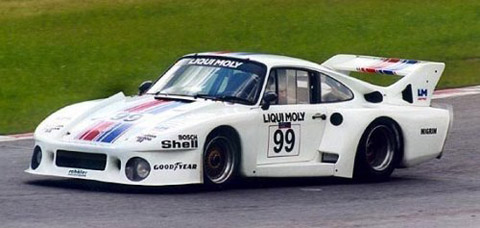 In the year 1977, the Porsche factory continued modification to the Porsche 935 where two KKK units were used in the place of single turbo and the body structure has been changed. Later a new "Baby" version was launched as a competitor to the Ford and BMW. The car weighed about just 750 kg, displacement is about 1425 cc and delivers an output power of about 370 hp. The Baby version also marked its victory at the Hockenheimring Race.
In the year 1978, a new version nicknamed "Moby-Dick" has been launched where the body structure has been lowered by 10 cm. It contained a 3.2 liter engine which delivers an output power of 950 hp and equipped with water cooled four valve cylinders. The maximum speed of the Porsche 935 is about 240 mph; it also participated in the Le Mans where it reached a top speed of about 223 mph.
Up to the year 1984, the Porsche 935 has won about 150 races. It was also victorious at the 12 Hours of Sebring, 24 Hours of Le Mans and 24 Hours of Daytona.