Supercars belong in a world of their own. They command respect and admiration from every car enthusiast, and for most they are just one of those things that you simply must have, and if you are not able, dream on.
Speaking of dreams, and if dreaming about superfast cars is your thing, so be it. Italian supercar manufacturer Pagani's legacy continues with the Pagani Huayra (pronounced why-eera) with its showing at the 2013 Geneva Autoshow.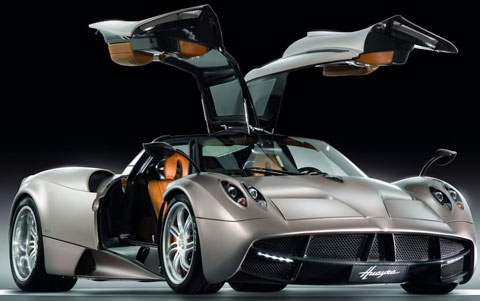 Specifications
General Info

| | |
| --- | --- |
| Vehicle Type: Super Sport Coupe | Est. Market Price: £849,000 |
Dimensions

| | |
| --- | --- |
| Length: 181.2 in. (460.2 cm) | Wheelbase: 110.2 in. (279.9 cm) |
| Height: 46 in. (116.8 cm) | Width: 80.2 in. (203.7 cm) |
| Curb Weight: 2976 lbs (1350 kg) | Maximum Seating: 2 |
Performance

| | |
| --- | --- |
| Engine: AMG M158 V12 DOHC Twin-Turbo | Displacement: 5980 cc |
| Horsepower: 720 HP | Max RPM: 5800 RPM |
| Torque: 740 lb-ft @ 3500 rpm | Transmission: 7-Speed Automatic Xtrac |
| 0-62 mph: 3.0 seconds | Top Speed: 23 mph / 37 km/h |
Pagani showcased two Huayra's, one in Blue France, the other in Red. Both had been fitted with their new Active Aerodynamics software, a front splitter, and the "High Downforce & Handling Pack."
For connoisseurs who appreciate revolutionary designs and heart-stopping performance from a supercar, the Huayra belongs among the top contenders of the supercar hierarchy.
Engine & Performance
Pagani partnered with Mercedes Benz AMG in building the Huayra's unique twin turbocharged 6.0L V12 engine. The result is a peak output of 720 hp at a low 5800 rpm generating a behemoth 740 lb-ft torque at just 3,500 rpm.
The Huayra can go from 0 to 60 mph in 3.0 seconds and has a top speed of 230 mph. That burst of power is aided by an X-trac seven-speed sequential transmission while still maintaining a pollution-friendly carbon emission. This makes the Huayra Euro 5 compliant.

Providing stopping power to all that raging speed are special rear air brakes made from high-tech carbon-titanium material.
Exterior
The Pagani Huayra has a carbon-titanium shell making for a light supercar at in the vicinity of 2976 pounds.
Being a true blue Zonda offspring, Huayra still features gull-wing doors as those found in the Mercedes SLS. But unlike the Zonda, the cumbersome wing at the rear is taken out and the rectangular horizontal tail lights have been taken down in favor of circular tail lights positioned at a higher level. Huayra features a different grille.
Interior
Despite being built like a powerhouse machine, the Huayra does not scrimp on luxury when it comes to its interior amenities. The craftsmanship and materials used in its cabin is simply breath taking.
Plush leather, aluminum and glass trimmings, and a multi-function steering wheel that allows the driver to cruise at break neck speeds without taking his hands off the wheel, these offerings contribute to making the Huayra a masterpiece in every way.
Huayra's piece de resistance is its high-definition multimedia system that features a central touch screen. This touch screen allows the driver to control all important controls of the car such as audio adjustments, Bluetooth control, and satellite navigation.
History
Zonda is the model that made Pagani into the company that it is today. Car enthusiasts from around the world hailed its aggressive and never-seen-before aerodynamic design. It was so successful that it gave birth to rarities like the Cinque and the Zonda F.
All that hoopla is nothing compared to the groundbreaking entrance of the Huayra, as some say that while the Zonda was evolutionary, the Huayra is revolutionary.
Just like the Zonda, the Huayra is named after a South American wind. So it is not surprising that aerodynamics play a key role in the Huayra's design and engineering. Yes, the Huayra will replace the remarkable Zonda and we will see why the Huayra is deserving of all the hype.
Only 20 Pagani Huayra's will be available each year at an approximate cost of $1.3M. It is now available in the U.S. which is good news, Pagani's were previously unavailable in the American market.