The Nissan Motor Company had 2 major announcements at the recent Tokyo Auto Show. One was the introduction of the new Nismo GT-R, the other, was the unveiling of the 2013 Nissan BladeGlider Concept.
The model shown at the Auto Show was actually a scaled down edition as opposed to what they hope may be in production in the next 3 years. When this car is sold to the public, Nissan intends to compete aggressively.
The target market will be youthful singles and couples who are eco-friendly, with an eye toward maintaining the environment. It will be a sports car that is appealing and affordable.
The BladeGlider Concept is a rear wheel vehicle and is run by an all electric drivetrain complete with in-wheel motors with independent motor management.
The power will come from Lithium-ion batteries with zero emissions.
Exterior
To say the Nissan BladeGlider has a futuristic appearance would be an understatement.
The rear track is wider than the front giving it a triangular shape. When the roof is in place it looks more like an aircraft than an auto.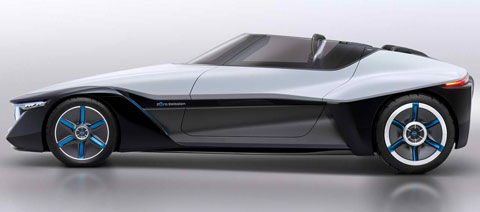 You would think large sized spoilers would be required to keep it grounded, but in fact, the shape of the carbon fiber shell is engineered to accomplish the necessary down force to keep the wheels glued to the road. The production version will be made of carbon reinforced plastic.
Moving forward from the 2 doors mounted gull wing style, the front narrows to what could be described as a bird-like beak.
The headlights are thin horizontal strips of individual LED bulbs on either side of a small, but deep front bumper. A large chrome Nissan insignia is displayed in the center of the front façade.
The design of the headlights is replicated with the taillights in rear that sit behind the 2 wing-like rear fenders.
Interior
At first glance, the interior of the 2013 Nissan BladeGlider Concept may remind you of a McLaren F1. The driver seat is actually centered in the cockpit, with two additional seats for passengers in the rear.
The steering wheel has an aeronautic element to it, while the instrument panel is filled with state of the art technology. The cabin is lit via a yellow fluorescent illumination.