European automaker Volkswagen keeps up its positive reputation of its compact wagon line, the Jetta SportWagen, in its latest incarnation for 2011. It continues with the best features of its 2010 model such as stylish, high-quality interiors and roominess, and even ups the ante with improved fuel efficiency and a pleasing facelift for its front end design.
Consumers should not shy away from the Volkswagen Jetta SportWagen, lest they are mistaking it for the Volkswagen Jetta sedan that has garnered some disappointing reviews due to its reduced engine power and altered interior styling compared to the previous year's model. The Jetta sedan offered a price cut and poised itself competitively at a starting price of just under $16,000, plus boasted of more spacious rear legroom, but the perceived setbacks were in the base models less powerful engine and unappealing interiors finished in shiny plastic.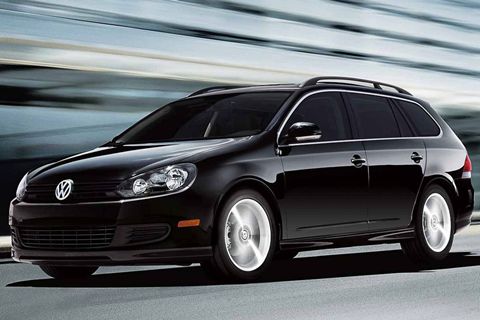 Performance
True to its intent as an all-around family vehicle, the 2011 Volkswagen Jetta SportWagen's maximum cargo capacity is pegged at just less than 70 cubic feet, exceeding other best-in-class vehicles such as the Chevrolet Equinox (MSRP $22,995; 22 city / 32 hwy) and GMC Terrain (MSRP $24,250; 22 city / 32 hwy). Power is substantial, with the TDI diesel trim housing a 2.0-liter engine, and the S and SE trims boasting of a 2.5-liter five-cylinder engine. The interiors are classy and beyond expectation in an affordable compact wagon category, with thoughtful leatherette seats that are easy to clean and maintain.
The Jetta SportWagen could be considered in a class of its own and a good buy among affordable compact wagons in the market today. The Jetta SportWagen has been ranked number 2 out of 7 models reviewed and test-driven by the automotive press. The Jetta SportWagen and Sedan previously shared the same specs in terms of engine, interiors, and suspension system, but with the changes in both lines for 2011, each are seemingly headed in their own separate directions.
Fortunately for Volkswagen enthusiasts, as well for fans of the Jetta SportWagen, the European car maker's compact wagon line is headed into even better things. The Jetta SportWagen has improved on its fuel economy by a few more miles per gallon both in city driving and highway cruising, compared to its 2010 model—so much so that auto reviewers are pushing car buyers to the TDI variant, which has a diesel engine that affords fuel efficiency surpassing that of previous record holder, the Ford Escape Hybrid (MSRP $30,570; 34 city / 31 hwy).
Interior
The 2011 Volkswagen Jetta SportWagen it is not without its faults, as the interior space does have its tight spots. The rear row may not accommodate bigger and taller individuals easily. In terms of the dashboard design, the optional GPS navigation system seems to muddle the audio controls.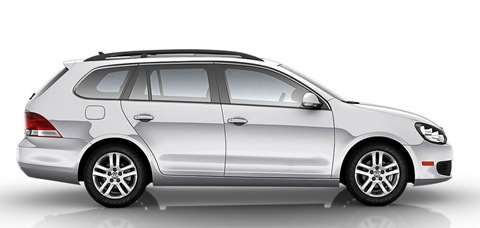 However, all in all the 2011 Volkswagen Jetta SportWagen does not disappoint and provides great value for money. It is truly an ideal compact wagon for a good-sized or growing family, especially with its sporty look and rugged reliability.
Competition
The Jetta SportWagen's price tag starts at just under $20,000, so those on a budget may consider the Hyundai Elantra Touring (MSRP $15,995; 23 city / 31 hwy), which is around $4,000 less. While the Hyundai Elantra Touring is slightly less fuel efficient, it has a load of other attractive, convenient features such as iPod connectivity, SIRIUS satellite radio, and Bluetooth connectivity (for an additional fee). The Mini Cooper Clubman (MSRP $21,100; 28 city / 35 hwy) is a nice choice for car buyers who seek something bigger than the Mini Cooper Hardtop, with the same handy but powerful drive that it provides.
Pros & Cons
Car shoppers may want to check the remaining units of the 2010 Jetta SportWagen, which may be available at a lower price as the 2011 model comes in, but with the exciting improvements in the 2011 Volkswagen Jetta SportWagen the higher price may be well worth it.
Overall Rating


77 out of 100
What others say:
"The Jetta's handling is one of the top reasons we recommend the German wagon over crossovers. The electric power steering is weighted well, and the ride is damped with a deft Deutsche touch."Car Connection
"Some wind rush from the front pillars and side windows is noticeable at highway speeds. The 5-cylinder is generally smooth and quiet, though it trails VW's own 4-cylinder engines for overall refinement."Consumer Guide
"Cavernous cargo space; stellar fuel economy with TDI; upscale cabin; comfortable seats; refined ride; good iPod interface."Edmunds
Specifications
General Info

| | |
| --- | --- |
| Vehicle Type: Wagon | Base Price: $19,995.00 |
| Fuel Tank Capacity: 14.5 gallons | Miles Per Gallon: 23 city /33 hwy |
Dimensions

| | |
| --- | --- |
| Length: 179.4 in. (456 cm) | Width: 70.1 in. (178 cm) |
| Height: 59.2 in. (150 cm) | Curb Weight: 3186 lbs (1445 kg) |
| Wheel Base: 101.5 in. (258 cm) | Ground Clearance: 5.4 in. (13.7 cm) |
| Luggage Capacity: 32.8 cu ft | Maximum Seating: 5 |
Performance

| | |
| --- | --- |
| Engine: 2.5L 20valve, 5cyl-inline | Displacement: 151 cu in |
| Horsepower: 170 hp | Max RPM: 5700 rpm |
| Torque: 177 lb-ft @ 4250 rpm | Transmission: 5-Speed Manual |
| 0-60 mph: 8.4 seconds | 1/4 Mile: NA |
Available Trims & Engine

| | |
| --- | --- |
| Option:Jetta SE 2.5L | MSRP: $23,745; MPG: 24 city / 31 hwy |
| Option:Jetta 2.0L TDI Clean Diesel | MSRP: $24,995; MPG: 30 city / 42 hwy |