The 2010 Volkswagen New Beetle is an enduring iconic symbol of the European car maker's ingenuity, as well as brash stylishness and iconoclasm. Based on the original Beetle debut in the mid-20th century, the modern-day issue is highly evocative and true to form, with its dynamic curves and compact size. The Volkswagen Beetle has indeed been suitable for the spirited individualist who does not shy away from attention-grabbing design.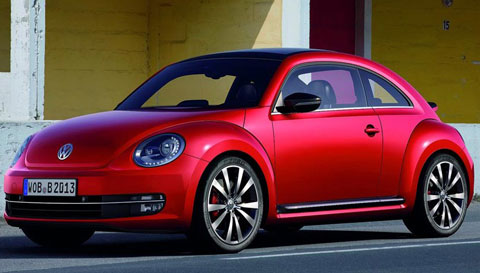 However, nothing else seems to benefit owners or prospective buyers of the Volkswagen Beetle than maverick styling. The expense does not stop there as the Beetle is quite low on fuel efficiency—a bit surprising for a vehicle that is compact in size. It averages only around 20 miles per gallon on city streets, and 29 miles per gallon on the highway.
A limitation of being faithful to its original bubble-top and half-circular design is the scarce interior space it offers, especially in the rear seat. Trunk space is likewise limited. The oversized dashboard design also reduces efficient interior space, and may pose as a hindrance to windshield visibility.
The good news is that Volkswagen is set to release the 2012 model, anticipated to be spiced up with a more contemporary, sporty look and interior functionalities, while still remaining true to the iconic Beetle profile. Automotive reviewers are keeping their fingers crossed for Volkswagen to also finally address the setbacks in space and fuel efficiency noted in the Volkswagen New Beetle.
All in all, the Volkswagen Beetle has and always will have a loyal set of followers and enthusiasts, and especially for these folks, getting the New Beetle would be an experience not to be missed. The inconveniences could very well be overlooked as these have been the perennial problems associated with the iconic car. The New Beetle is a decent, comfortable ride, whether in an urban setting or on long road trips. Most especially, it is a fun ride for easy laidback times.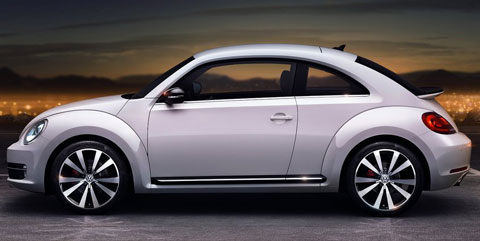 Competition
Those seeking the same retro-stylish cache and European driving technology usually look at another classic, the Mini Cooper (MSRP $17,417; 28 city / 37 hwy). Similarly petite and attention-grabbing, the Mini Cooper provides better performance and decent fuel economy ratings. However, it offers even smaller cargo area of around 5.7 cubic feet, even with the rear seats folded up. With a more polished and mod look, Mini Coopers are also more than a thousand bucks more costly than the Beetle, starting at $20,000.
Volkswagen enthusiasts can also settle for the Golf (MSRP $15,729; 22 city / 30 hwy), another small vehicle that is less exciting in design but more reliable in performance and fuel economy. It averages 22 miles per gallon in city streets, and 30 miles per gallon on the highway. A more spacious cargo area holds up to 46 cubic feet.
The Honda Fit (MSRP $14,053; 27 city / 33 hwy) is a similarly practical and economical choice for a small car, with even more innovative interior space planning that affords up to 57 cubic feet of cargo space. Despite its hatchback design, the Fit seats passengers more comfortably, and provides a host of thoughtful interior features such as cubbyholes, holders, and other design elements.
While the Honda Fit and Volkswagen Golf may be more practical choices, those ready and willing to part with some good cash would be satisfied with the pleasure of owning a Mini Cooper or a 2010 New Beetle. Buyers bent on getting a Beetle might as well wait for a couple of months for the new and improved 2012 model.
Overall Rating


60 out of 100
What others say:
"The 2010 Volkswagen New Beetle pairs a timeless shape and outdated details."Car Connection
"The slow-revving 5-cylinder engine needs full throttle for best takeoffs. It feels livelier once under way, however."Consumer Guide
"There's not much more to the aged 2010 Volkswagen New Beetle than meets the eye. If you like the way it looks, you may not mind the way it drives, but there are far better choices at this price point."Edmunds
Specifications
General Info

| | |
| --- | --- |
| Vehicle Type: Hatchback | Base Price: $16,783.00 |
| Fuel Tank Capacity: 14.5 gallons | Miles Per Gallon: 20 city / 28 hwy |
Dimensions

| | |
| --- | --- |
| Length: 161.1 in. (409 cm) | Width: 67.9 in. (172 cm) |
| Height: 59 in. (150 cm) | Curb Weight: 2882 lbs (1307 kg) |
| Wheel Base: 98.8 in. (251 cm) | Ground Clearance: 4.6 in. (11.6 cm) |
| Luggage Capacity: 12 cu ft | Maximum Seating: 5 |
Performance

| | |
| --- | --- |
| Engine: 2.5L DOHC inline 5 | Displacement: NA |
| Horsepower: 150 hp | Max RPM: 3750 rpm |
| Torque: 150 lb-ft @ 5000 rpm | Transmission: 5-Speed Manual |
| 0-60 mph: NA | 1/4 Mile: NA |
Available Trims & Engine

| | |
| --- | --- |
| Option:2.5L Hatchback, 6 speed automatic | MSRP: $17,807; MPG: 20 city / 29 hwy |
| Option:2.5L PZEV Hatchback, 6 speed automatic | MSRP: $17,926; MPG: 20 city / 29 hwy |
| Option:2.5L Final Edition, 6 speed automatic | MSRP: $18,333; MPG: 20 city / 29 hwy |