People buy a vehicle for the purpose of convenience and that of an investment. Even though a car depreciates in value through time, it is just a matter of proper maintenance to keep it going smoothly and maintain its high value. People have different preferences in buying a car. There are those who want a mini car which is to be used just in going to school or work. There are also those who make purchases based on style and those who use fuel economy as basis choosing a car. People have their own preferences in purchasing a car. It is best to research about the car of your choice and match it with your preferred characteristics.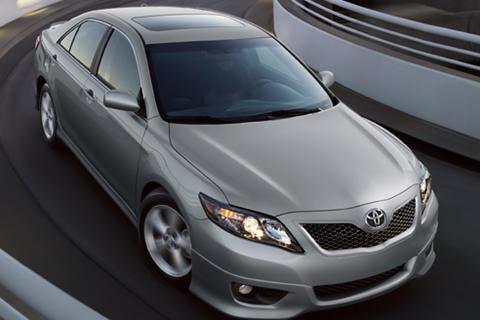 Lots of people are looking for a car that is slim in the outside but spacious in the interior – one that has a powerful engine but is low in fuel consumption, one that looks simple but elegant, etc. Toyota has released a model that meets all those preferences and that is the Toyota Camry. The most recognized series of the Toyota Camry among its models is the 2011 series that has never failed the expectations of a car enthusiast.
Extras
The 2011 Toyota Camry has a beautiful exterior, engaging in a conservative way. Its overall length is 189.2 inches and 71.7 inches in width. It is 57.9 inches for its overall height. The wheelbase is 109.3 inches while the front and rear track is 62.0inches and 61.6 inches respectively. The Toyota has offered body-colors such as black, super white, sandy beach metallic, classic silver metallic and blue ribbon metallic but of course, it can be customized according to the buyer's preferred color. The color of the side mirrors is the same with its body- color that has an alloy-oriented look.
The lighting system of the car has extra features like daytime running lights and halogen headlights with projector beam lenses. The rear window has a defroster. All these exterior features define what beautiful is when it comes to cars. It looks very elegant and sophisticated and is recommended for those buyers who are picky when it comes to car appearance.
If the exterior of the 2011 Toyota Camry is worthy of the word "outstanding", so are its interior features. Actually, this car has a lot of interior features that the owner would surely enjoy. Its audio system has a built-in AM/FM radio with CD/DVD player that can read MP3 format files. It has outside air temperature indicator, low tire pressure indicator, power steering and steering wheel mounted with audio controls, power
windows, front seat and rear seat center armrest, headlight control with dust sensor, airbags (front, rear, and side) for the driver and passengers, its trunk release is remote controlled, six speakers, and central locking system. Camry has a five-seating capacity with a cargo capacity of 10.6 cubic feet. All these are the unique features that you can only find in 2011 Toyota Camry model.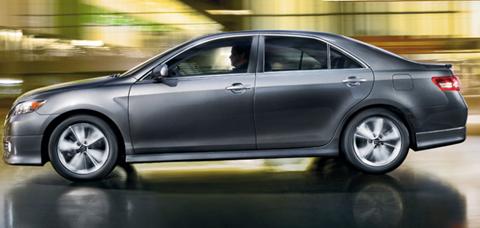 When it comes to its performance, it has a 2.5L in-line four cylinder engine that is powerful enough to satisfy the speedy needs of the buyer, which also operates with unleaded fuel to be contained in a 18.5 gallon fuel tank. Unleaded is recommended because it is environmental friendly, inexpensive, and easy to maintain.
With all these information given, one can say that the 2011 Toyota Camry is one of the most recommendable cars of Toyota. The interior and the exterior of the car are both excellent and fascinating. Its performance exceeds customers' expectations, thus the 2011 Toyota Camry is a 10 out of 10 in overall quality. The Camry is truly the crowning glory of Toyota cars.
The SuperCars Overall Rating = 74/100
What others say:
"Handling is responsive and secure but not sporty. The interior is spacious. Controls are simple to use, but some fit and finish details fall short."Consumer Reports
"The 2011 Toyota Camry isn't at the leading edge in any way, but it remains one of the smartest mid-size sedan picks."The Car Connection
"The latest Toyota four-cylinder engine provides adequate power with good fuel economy, while the muscular V6 is a powerhouse, good for a zero to 60-miles-per-hour burst in less than seven seconds."KBB
"The 2011 Toyota Camry isn't very exciting to drive, but it's a plush-riding champ on the highway and its optional V6 is superb."Edmunds
Specifications
General Info

| | |
| --- | --- |
| Vehicle Type: Midsize Sedan | Base Price: $ 20,195.00 |
| Fuel Tank Capacity: 18.5 gallons | Miles Per Gallon: 22 city / 33 hwy |
Dimensions

| | |
| --- | --- |
| Length: 189.2 in.(481cm) | Width: 71.7 in. (182cm) |
| Height: 57.9 in. (147cm) | Weight: 3307 lbs (1500kg) |
| Wheel Base: 109.3 in. (277cm) | Ground Clearance: 5.5 in. (14cm) (unladen) |
| Luggage Capacity: Cargo Vol. 15 cu ft | Maximum Seating: 5 |
Performance

| | |
| --- | --- |
| Engine: 2.5 Liter 4 Cylinder DOHC 16-Valve VVT-i | Displacement: N/A |
| Horsepower: 169 hp | Torque: 167 lb-ft @ 4100 rpm |
| Max RPM: 6000 rpm | Transmission: 6-speed ECT-i automatic Transmission |
| 0-60 mph: 8.3 seconds | 1/4 Mile: 16.2 seconds |
Available Trims & Engine

| | |
| --- | --- |
| Option:2.5 Liter 4-Cyl. 6 Speed Manual | MSRP: $20,195; MPG: 22 city / 33 hwy |
| Option:LE 2.5L 4-Cyl. 6 Speed Manual | MSRP: $21,659; MPG: 22 city / 33 hwy |
| Option:LE 2.5L 4-Cyl. 6-Speed Auto | MSRP: $22,700; MPG: 22 city / 32 hwy |
| Option:LE 3.5L V6 6-Speed Auto | MSRP: $25,365; MPG: 20 city / 29 hwy |
| Option:SE 2.5L 4-Cyl 6 Speed Manual | MSRP: $22,965; MPG: 22 city / 33 hwy |
| Option:SE 2.5L 4-Cyl 6 Speed Auto | MSRP: $23,965; MPG: 22 city / 32 hwy |
| Option:SE 3.5L V6 6-Speed Auto | MSRP: $26,640; MPG: 20 city / 29 hwy |
| Option:XLE 2.5L 4-Cyl 6-Speed Auto | MSRP: $26,725; MPG: 22 city / 32 hwy |
| Option:XLE 3.5L V6 6-Speed Auto | MSRP: $29,845; MPG: 20 city / 29 hwy |
| Option:Hybrid 2.4 Liter 4-Cyl. | MSRP: $27,050; MPG: 31 city / 35 hwy |