If you are looking for a pickup truck that is compact, then the 2011 Suzuki Equator is definitely the way to go. It has four trims for you to choose from. In the same manner, you also have the option to choose the Extended Cab as well as the Crew Cab models of this year's version of the Suzuki Equator.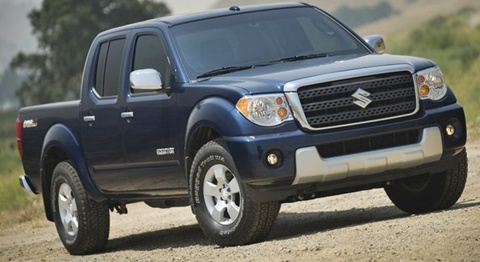 General Info

| | |
| --- | --- |
| Vehicle Type: Pick Up Truck | Base Price: $17,595.00 |
| Fuel Tank Capacity: 21.1 gallons (80 liters) | MPG: 19 city / 23 hwy |
Dimensions

| | |
| --- | --- |
| Length: 206.6 in. (524 cm) | Width: 72.8 in. (184 cm) |
| Height: 68.7 in. (174 cm) | Wheel Base: 125.9 in. (319 cm) |
| Curb Weight: 3686 lbs (1671 kg) | Ground Clearance: 7.6 in. (19 cm) |
| Cargo Capacity: 33.5 cu ft | Maximum Seating: 4 people |
Performance

| | |
| --- | --- |
| Engine: 16-Valve DOHC Inline-4 | Displacement: 2.5 liter |
| Horsepower: 152 HP | Max RPM: 5200 RPM |
| Torque: 171 lb-ft @ 4400 rpm | Transmission: 5-Speed Manual |
| 0-60 mph: 7.8 seconds | Max Towing Capacity: 3500 lbs (1587 kgs) |
Available Trims & Engine

| | |
| --- | --- |
| Option:Extended Cab Premium RWD | MSRP: $22,479; MPG: 17 city / 22 hwy |
| Option:Extended Cab Sport V6 4WD | MSRP: $25,979; MPG: 15 city / 20 hwy |
| Option:CrewCab Sport V6RWD | MSRP: $25,279; MPG: 15 city / 20 hwy |
| Option:CrewCab Sport Long BedV6 4WD | MSRP: $28,279; MPG: 14 city / 19 hwy |
| Option:CrewCab RMZ 4 V6 4WD | MSRP: $29,150; MPG: 14 city / 19 hwy |
Performance
Under the hood, you actually have two options for the engine. One of which is an engine with four cylinders. This has a capacity for 2.5 liters. It is also capable for as much as 171 lb-feet of torque coupled with 152 horsepower. More so, this comes with a manual transmission of five speeds.
On the other hand, you can go for the V6 engine. Well, that is if you buy the crew cab as well as the 4WD versions. This engine has much more capacity at 4 liters. At the same time, it can give you as much as 281 lb-feet of torque as well as 261 horsepower. In terms of transmission, this model comes with an automatic transmission of five speeds.
If you want to use the Equator for towing, then you will be delighted to know that is capable of towing up to 6,300 pounds for the two-wheel drive versions. On the other hand, the 4WD option can tow up to 6,100 pounds.
As for the driving impression and performance, users seem to be satisfied with the performance of this baby on and off the road. However, there are those which complain about poor handling. But generally, the impression seems to be doing great.
Exterior & Interior
When it comes to the exterior, a lot of people actually find this model of the Suzuki Equator to be like the Nissan Frontier which is its competitor. Nonetheless, in terms of aesthetics, it seems that the 2011 Equator is actually lagging behind the tail.
However, that is not to say that the exterior styling and design of this model is a complete trash. As a matter of fact, this vehicle boasts of an in-bed cargo system which a lot of vehicle owners actually find to be useful. And this actually makes the task of hauling easier and faster.
As for the interior, it seems that Suzuki actually put more premium in practicality more than comfort. And this is not actually a bad thing. For instance, the materials used in the interior are easier to maintain more than stylish. The interior technological features are very much user-friendly as well. There are features for music, navigation and for other recreational purposes as well.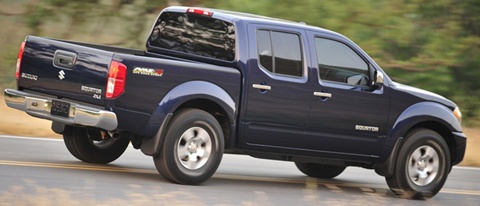 As for the seating capacity, the Equator can seat as much as 4 to 5 people depending on the version that you will get. While the front seats have been reported to be comfortable and adequate, there have been complaints when it comes to the rear seats which for some appear to be cramped.
The cargo capacity of this model has also been getting good reviews. As a matter of fact, this aspect seems to be making the best impression. Well, that is not really a surprise because the cargo area is fully equipped with not only practical but also innovative features.
Safety & Reliability
For safety, the manufacturers of this model made it a point to include standard features to ensure the well being of the passengers and users. Here are some of them for starters. There are airbags in the strategic and usual locations. This model also boasts of electronic brake controls.
Finally, however, this model actually scored poorly in terms of reliability according to the Predicted Reliability Rating provided by J. D. Power. It got a meager 4 out of a total of 10. Nonetheless, you will be pleased that this model still comes with a limited warranty of 36,000 miles or 3 years as well as a powertrain warranty of 100,000 miles or 7 years. And this is basically why a lot of people actually choose the 2011 Suzuki Equator than its competitor—the Nissan Frontier.
Overall Rating


63 out of 100
What others say:
"The 2011 Suzuki Equator is a good match for weekend active types and busy hobbyists, thanks to its innovative cargo solutions and tough off-road ability."Car Connection
"Handling is nicely balanced for a pickup truck. The steering feels weighty and direct, but is slow to react in tight turns and parking spots."Consumer Guide
"Less backseat comfort than competitors; some desirable features only available on top trim level; regular-cab body style not available; limited dealer network."Edmunds
"We have about one-hundred words, but we could do it in three: it's a truck. With that as a given, the Equator and its Frontier twin are highly regarded for an extremely stiff – albeit heavy – chassis structure."KBB