Smart cars evoke different kinds of reactions from the motoring public. Some plainly hate them and are annoyed by their rather flimsy looking appearance that has the potential to easily crumple by the slightest impact or collision. Moreover, those who are fans of smart cars complain of the "struggle" the car makes when going uphill or when driven hard.
Those who love smart cars rave about the ease of using such small cars in a city environment where parking space, traffic congestion, and excessive fuel consumptions are always a source of headaches. And the smart car's diminutive size is exactly what these people appreciate, referring to it as cute and fun to drive.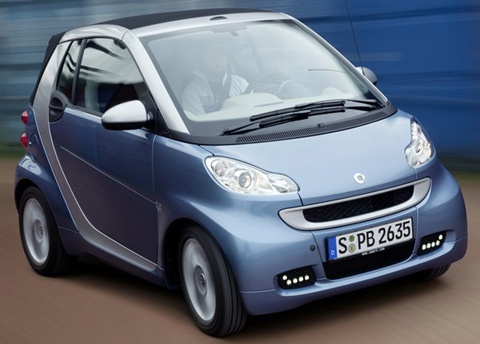 Specifications
General Info

| | |
| --- | --- |
| Vehicle Type: Small Coupe | Base Price: $12,490.00 |
| Fuel Tank Capacity: 8.7 gallons (32.9 liters) | MPG: 33 city / 41 hwy |
Dimensions

| | |
| --- | --- |
| Length: 106.1 in. (269 cm) | Width: 61.3 in. (155.7 cm) |
| Height: 60.7 in. (154 cm) | Wheel Base: 73.5 in. (186.6 cm) |
| Curb Weight: 1808 lbs (820 kg) | Ground Clearance: NA |
| Luggage Capacity: 7.8 cu ft | Maximum Seating: 2 people |
Performance

| | |
| --- | --- |
| Engine: 12-valve DOHC inline-3 | Displacement: 1.0 liters |
| Horsepower: 70 HP | Max RPM: 5800 RPM |
| Torque: 68 lb-ft @ 4500 rpm | Transmission: 5-Speed Automatic-Manual |
| 0-60 mph: 12.8 seconds | Maximum Speed: 90 mph (144.8 km/h) |
Available Trims & Engine

| | |
| --- | --- |
| Option:Passion Coupe | MSRP: $14,690; MPG: 33 city / 41 hwy |
| Option:Passion Cabriolet | MSRP: $17,690; MPG: 33 city / 41 hwy |
| Option:Electric Drive | MSRP: Lease; MPG: NA city / NA hwy |
The 2011 Smart Fortwo boasts of a revamped interior and exterior as well as an engine that offers more environmentally friendly features. On top of that, tridion safety cells in white, and cabrio soft tops in either red or blue have now been added as an option. Additionally, LED daytime driving lights and new alloy wheels give the motorist more chances to customize this smart car. The redesigned cockpit and the availability of new fabric and colors as well as a communication and entertainment systems that feature today's cutting edge technology all contribute to giving this car a fresh and updated look.
Exterior & Interior
Customers can now choose from seven different exterior colors instead of six. This includes matte light green and light blue metallic which replaces the old blue metallic color. They may also choose to customize their new Smart Fortwo by having the front spoiler, side skirts and rear apron painted in the body color of their choice.
The cabrio soft top colors are also now available in red and blue, as well as the tridion safety cell being offered in brilliant white. The door mirror surrounds and radiator grilles are painted in white as well, giving the new Smart Fortwo an entirely revamped facia when combined with the white tridion safety cells.
Other options available are LED daytime driving lights and new 15 inch alloy wheels.
The new 2011 Smart Fortwo has also been given a new interior design as an option to buyers.
The instrument panel features full-fabric cover treatment using new styles and fabric designs. These new features include a redesigned dials with contrasting dark central disc in the dashboard panels and instrument clusters.
Moreover, options like a 3-spoke leather wrapped steering wheel that features cruise control and trip computer, dimmable LED ambient lighting, and a fabric-covered folding center armrest are available for customers who may want to customize their new car even further.
Like most cars these days, new 2011 Smart Fortwo features the latest in communication and entertainment system for the car. Its 16.9 cm multimedia audio system also doubles as the car's navigation system. Bluetooth and USB connectivity options, as well as AUX input to control an iPod or MP3 player are likewise standard. A Smart Drive Kit specifically designed for iPhone may also prove useful for iPhone users.
A surround sound system powered by an 8 channel digital amplifier that provides 40 watts of power is also available as an option.
Performance
Available in 40 kW cdi turbodiesel,(emission:86 g/km) 52 kW mhd petrol (emission: 97 g/km, fuel consumption: 4.2 L/100km) and 62 kW petrol (emission: 97 g/km, fuel consumption: 4.9 L/100km) engines.
Performance wise, power is 27hp which can be cranked up to 40hp in short bursts with 88.5 lb-ft of torque.
Acceleration from 0-37mph (0-60kph) is 6.5 seconds with a top speed 62mph and driving range of 84 miles out of a single charge from a 16.5 kW battery pack.
Charging time is 8 hours for a 220-volt connection.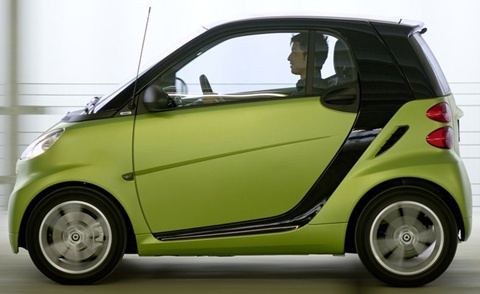 Pros
The 2011 Smart Fortwo is fun to drive. It has a unique exterior that may give it that never-before-seen-car look. And its interior provides comfortable seating and is spacious enough considering its size. Its small size enables you to squeeze in the tightest of parking spots.
Cons
Its small size may already be a turn off for a lot of people. It only seats two and there are not a lot of storage spaces to go by.
Those who prefer smaller cars on the other hand, might be put off by its price. Imagine the Fortwo starts at $12,000 which is okay for a small car. However, the Fortwo comes at the barest of necessities at this price. At $12,000 the 2011 Smart Fortwo doesn't come with air conditioning, audio system, power windows, and forget about Bluetooth or any other form of connectivity options! There are simply other smaller cars at this price that features all these amenities and more.
In terms of performance, the Fortwo doesn't impress either. It's slow to accelerate and the transmission is not smooth enough. And although its high fuel economy rating of 33/41 mpg city/highway may look impressive, its demand for premium fuel is not good for the budget conscious driver.
And then of course there are safety issues which are inherent to small cars.
Competition
When you compare it other small car players in the market such as the Ford Fiesta (MSRP $15,500; 28 city / 37 hwy) and the Mazda 2 (MSRP $14,180; 29 city / 35 hwy), you simply know that you have better options than the Fortwo.
For a little over the price that the Fortwo is asking, you can get a Mazda 2 for instance- it may cost a little more but you get more space and better amenities as well.
The Honda Fit (MSRP $15,100; 27 city / 33 hwy) is another alternative to the Fortwo. The Fit offers a better safety record and is more reliable on the road.
As was previously mentioned at the start of this article, smart cars are a "love it or hate it" affair. And this cannot be truer in the case of the 2011 Smart Fortwo.
But hey, love it or hate it right? If you are just looking for a fun car to drive around the city and you don't mind all the minuses against this car, then the 2011 Smart Fortwo may just be right for you.
Overall Rating


60 out of 100
What others say:
"The 2011 Smart Fortwo is at its best on congested urban streets; at highway speeds its less-secure feel becomes a liability in several ways."Car Connection
"Light, accurate steering contributes to an almost sporty demeanor, though some testers complain of tippy sensations in corners."Consumer Guide
"The 2011 Smart Fortwo is a capable city car, but its high price, eccentric transmission and unpleasant highway ride should be enough to drive shoppers to other, more well-rounded small cars."Edmunds