With the continuing escalation of gas prices the reduction of available parking space, the demand for smaller cars are becoming much larger. Subcompact cars are becoming the latest trend in the automotive market. Though they are long popular in Japan because of the "K-car" segment, they are now getting worldwide attention recently because of vehicles such as the Smart Fortwo. Recognizing this, Toyota is now entering the worldwide subcompact market with the Scion iQ. The iQ, according to Toyota, is the world's smallest four seater and is targeted for a younger audience.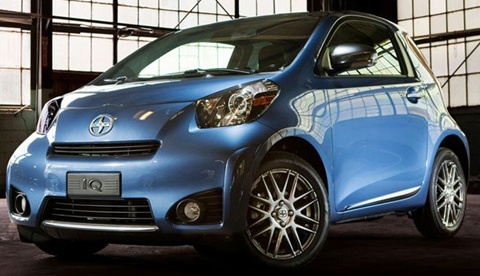 Exterior & Interior
Looking at the iQ, the first thing that one is going to observe is its smallness. Its measurements are just startling: it measures in at just 120 inches in length, which is almost 2 feet shorter than compact cars such as the Mini Cooper and just 1 foot longer than the Smart Fortwo, which is actually a 2 seater. But still, given its small proportion, it still has seats for 4 full sized people, or so it claims.
As for the design, it is cute and compact, with a contemporary look that makes it suit well in these modern times. Given its size, it would be interesting how Toyota is going to make the Scion iQ the world's smallest 4 seat car. And those that were able to ride one have mixed feelings about it. First, they say that the front seats are good enough for even tall people.
But as for the rear seats, it is a completely different story. They think that the rear seats are best left for children, unless front seat occupants want to compromise their own space. As for features, it comes with a full sound system with inputs for both music players and USBs. As for cargo space, unless the rear seats are folded, forget about it, because the rear seat is extremely close to the trunk.
One thing that people should be surprised about the iQ is that despite its miniscule size, it is packed with a long list of safety equipment: 10 airbags, anti lock brakes, traction control, and stability control.
Performance
The standard 1.0 liter engine that produces 67 horsepower has been upgraded into a 1.3 liter engine that produces somewhere in between 90 and 100 horsepower. This almost equates to a 30% power upgrade that should translate dividends in the speed category. Together with its compact size, it is expected to perform well in those tight spaces.
Pros & Cons
Those that were able to drive the Scion iQ have mixed opinions in how this car has performed. Of course, they have appreciated the level of innovation and creativity that it took in order to construct this car in the first place. The styling is something that fits in well with Toyota's target market for this car, and the fact that they have managed to fit in so much gizmos inside its small body is an achievement in itself.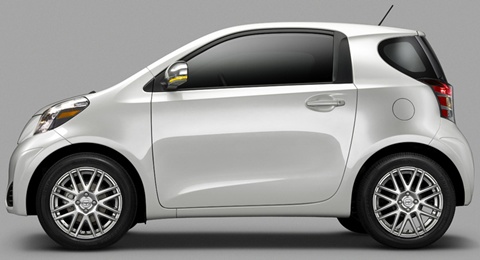 The Competition
There are a handful of cars comparable to the iQ worth looking at, these include the smart fortwo (MSRP $14,690; 33 city / 41 hwy), the 2012 Fiat 500 (MSRP $15,500; 30 city / 38 hwy), and the Mini Cooper (MSRP $19,500; 29 city / 37 hwy). You will find the Mini Cooper at a much higher price range but you also get more room.
In Closing
Despite its small size, people (at least on the front) are bound to feel at home being a driver or a passenger on this car. And when you add its comprehensive list of safety equipment, it sounds like a safe place to be. However, a lot has bemoaned the fact that its rear seats are mostly ineffective and that luggage space is nearly nonexistent. Also, the fuel economy numbers for the upgraded engine, while impressive in most cases, is considered underwhelming considering its size.
The 2012 Scion iQ has a lot inside its little package. It may not exactly be the ideal car, but it is an innovative car nonetheless. Expect it to spearhead the subcompact revolution within the coming years.
Overall Rating


62 out of 100
What others say:
"The 2012 Scion iQ is just a roller skate on wheels, but it bucks econocar drab in favor of an assertive, sporty, and nicely detailed look and feel."Car Connection
"For the most part, the steering is light and easy to handle. It gives some road feedback when turning, but on-center feel is mostly numb. iQ leans somewhat in fast turns, but not enough to be unnerving. An extremely tight turning radius enables easy U-turns on crowded, two-lane city streets."Consumer Guide
"The 2012 Scion iQ is a minimalist metropolitan runabout that gets great fuel economy. Style and utility are the messages here, not driving excitement."Edmunds
Specifications
General Info

| | |
| --- | --- |
| Vehicle Type: Hatchback | Base Price: $15,265.00 |
| Fuel Tank Capacity: 8.5 gallons (32 liters) | MPG: 36 city / 37 hwy |
Dimensions

| | |
| --- | --- |
| Length: 120.1 in. (305 cm) | Width: 66.1 in. (167.8 cm) |
| Height: 59.1 in. (150 cm) | Wheel Base: 78.7 in. (200 cm) |
| Curb Weight: 2127 lbs (964.8 kg) | Ground Clearance: 5.3 in. (13 cm) |
| Luggage Capacity: 3.5 cu ft | Maximum Seating: 4 people |
Performance

| | |
| --- | --- |
| Engine: 1.3L DOHC 16-Valve Inline-4 | Compression Ratio: 11.5: 1 |
| Horsepower: 94 HP | Max RPM: 6000 RPM |
| Torque: 89 lb-ft @ 4400 rpm | Transmission: CVT-i* |
| 0-60 mph: 11.7 seconds | 1/4 Mile: 18.3 seconds |