The Mercedes-Benz G-Class is a large, rugged, powerful off-road vehicle similar in concept to the Land Rover Defender or Hummer H2, and like those vehicles is used by military operators in various countries, as well as being available for sale to the general public for recreational purposes. It has been in production in Graz, Austria since 1979. The G stands for Gelandewagen, German for "land car".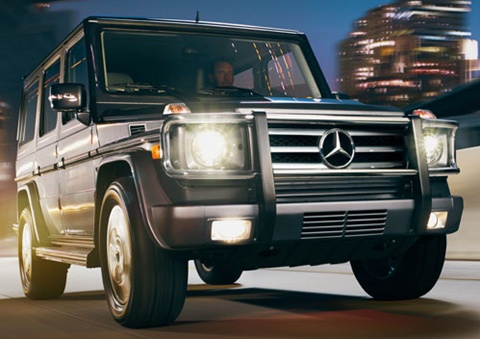 Performance
The G-Class has several engine options, the G 350 CDI BlueTEC, a 224 hp 3-liter V6 turbo-diesel, and the G500 5.4 liter DOHC 32-valve V8 gasoline engine producing 382hp in the G550 SUV model, or 507 hp in the supercharged G55 AMG version.
Plenty of horsepower for those who want to take this 2.5 ton vehicle off-road, and more for those who have the budget to afford it. The BlueTEC engine has an intriguing device which injects a urea solution into the exhaust to reduce emissions.
Not surprisingly, given that a heavy vehicle like this can always use more horsepower, the G55 engine is being phased out next year in favor of a bigger G65 twin-turbocharged 6-liter V12 engine already being used in other Mercedes-Benz AMG models such as the S65 and CL65. If you didn't know, AMG is the high-spec, high-performance division of Mercedes-Benz which makes cars for those who are willing and able to pay that little bit extra for a special Mercedes with some extra style and punch.
Interior & Exterior
The exterior of the G-Class, as befits a military-based vehicle, is a boxy, no-nonsense design which hasn't changed much in the last 32 years. It has a higher driving position than most other SUV's thanks to its massive ground clearance and height, and comes in both SWB and LWB (short and long wheelbase) versions.
It is also very roomy and well appointed, if not as modern as more recent vehicles. With seats folded, the luggage capacity is 45.2 cu ft, not bad for a vehicle which in SWB form is both shorter and narrower than the more modern M-Class Merc. With all the mod-cons such as GPS satellite navigation, climate control, voice control, multimedia sound system with 4GB hard drive and iPod/MP3 capability, not to mention burl walnut wood trim, leather upholstery, power seats and more, there's not too much missing from this luxury vehicle, except of course a budget price, but it IS a Mercedes-Benz after all.
Safety
When it comes to safety, Mercedes has a reputation to uphold, so the G-Class comes equipped
with an 8-way airbag system, ETS traction control, ABS antilock braking, BAS Brake Assist System, rear view camera, rear Park Assist, rain-sensing wipers, headlamp washers, tire pressure monitoring, and more.
Interestingly, the Mercedes-Benz G-Class is the only SUV with 3 lockable differentials, which enhances its off-road capability by using the 3rd diff to balance the power distribution between front and rear axles, keeping the vehicle moving even if the wheels at one end lose contact with the ground in rough terrain.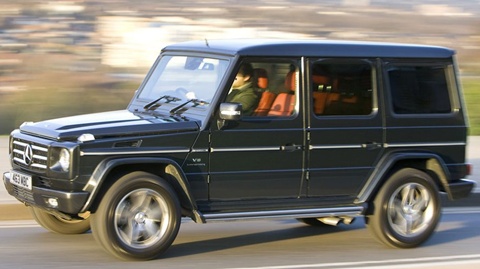 The Competition
Comparison with other vehicles such as the Range Rover (MSRP $78,835; 12 city / 18 hwy), Toyota Land Cruiser (MSRP $69,120; 13 city / 18 hwy) is difficult as the G-Class is a unique vehicle. Built to a price, its strengths are build quality, power, German precision, and off-road ability.
It is more expensive than any of those vehicles, so depending on what you are looking for, you might choose a Toyota if you want more technology at a lower price, a Range Rover if you want better off-road skills, or the Hummer if you prefer American style and toughness for less dollars.
Pros & Cons
So it is fair to say that anyone who would choose a Mercedes sedan over other brands would go for a G-Class if they are happy to compromise on style and comfort in comparison with the M-class while getting an optimal off-road vehicle.
The pros and cons are pretty simple: great power versus poor fuel economy, huge interior room vs dated slab-sided looks, premium luxury and creature comforts vs a hefty price tag, and lastly, the indefinable brand and status of Mercedes-Benz vs the anonymity of driving say a Mitsubishi or a Toyota for a lower price.
You choose – the G-Class is a unique proposition and will appeal to a select group of buyer, those with the budget and taste for a German luxury 4-wheel drive with extra off-road skills and character.
Overall Rating


74 out of 100
What others say:
"While many SUVs make the transition into the car-based crossover world, the military-grade Mercedes-Benz G-Class trundles on with its planar body, fantastically powerful engine choices, and downright miserable fuel economy."Car Connection
"Buying a 2011 Mercedes-Benz G-Class makes little rational sense. But its massive power, luxurious cabin and tanklike presence make it strangely desirable if you've got a few bucks to burn."Edmunds
"If you like the old-school ruggedness of what SUV's used to be but also demand high levels of performance and finish, you should definitely look at the G550. If you like the G550 and worship at the altar of "more," consider the G55 AMG."KBB
Specifications
General Info

| | |
| --- | --- |
| Vehicle Type: SUV | Base Price: $105,750.00 |
| Fuel Tank Capacity: 25.4 gallons (96 liters) | MPG: 11 city / 15 hwy |
Dimensions

| | |
| --- | --- |
| Length: 184.5 in. (468 cm) | Wheel Base: 112.2 in. (285 cm) |
| Height: 76 in. (193 cm) | Width: 71.8 in. (182 cm) |
| Curb Weight: 5662 lbs (2568 kg) | Ground Clearance: 8.3 in. (21 cm) |
| Luggage Capacity: 45.2 cu ft | Maximum Seating: 5 people |
Performance

| | |
| --- | --- |
| Engine: 5.5L 32-valve DOHC V8 | Displacement: 5461 cc |
| Horsepower: 382 HP | Max RPM: 6000 RPM |
| Torque: 391 lb-ft @ 2800-4800 rpm | Transmission: 7-Speed Automatic |
| 0-60 mph: 6.0 seconds | Max Towing Capacity: 3500 lbs (1587 kgs) |
Available Trims & Engine

| | |
| --- | --- |
| Option:G-Class G55 AMG 500HP | MSRP: $124,450; MPG: 11 city / 13 hwy |