The rotary engine is an integral part of Mazda's history as a car builder. Over the years, they have created spectacular cars using this innovative motor initially developed by Dr. Felix Wankel. Of course, the foremost of those cars is the legendary RX-7, which solidified Mazda's reputation of creating fast and fun to drive cars. The one tasked to carry on the RX-7's legacy is the unconventional looking Mazda RX-8. It is back in 2011, so now the question is, is the 2011 iteration of the RX-8 a good one? We would try to see the details.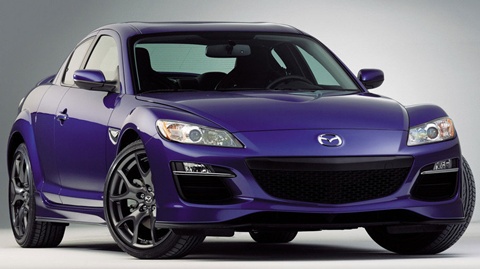 Specifications
General Info

| | |
| --- | --- |
| Vehicle Type: Coupe | Base Price: $26,795.00 |
| Fuel Tank Capacity: 16.9 gallons (64 liters) | MPG: 16 city / 22 hwy |
Dimensions

| | |
| --- | --- |
| Length: 175.6 in. (446 cm) | Width: 69.7 in. (177 cm) |
| Height: 52.8 in. (134 cm) | Wheel Base: 106.4 in. (270 cm) |
| Curb Weight: 3065 lbs (1390 kg) | Ground Clearance: 4.7 in. (11.9 cm) |
| Luggage Capacity: 7.6 cu ft | Maximum Seating: 4 people |
Performance

| | |
| --- | --- |
| Engine: 1.3L 2-Rotor Rotary | Displacement: 1308 cc |
| Horsepower: 232 HP | Max RPM: 8500 RPM |
| Compression Ratio: 10: 1 | Transmission: 6-Speed Manual |
| 0-60 mph: 6.4 seconds | Maximum Speed: 145 mph (233 km/h) |
Available Trims & Engine

| | |
| --- | --- |
| Option:RX-8 Grand Touring | MSRP: $32,260; MPG: 16 city / 22 hwy |
| Option:RX-8 R3 | MSRP: $32,290; MPG: 16 city / 22 hwy |
Performance
Of course, the Mazda RX-8 is powered by a rotary engine, the only production car currently in the US that uses such. Actually, using a rotary engine for this car makes up most of the pros and cons for this vehicle, but we shall save that for later. The 1.3 liter Renesis engine produces up to 232 horsepower at a very high 8500 rpm. Such ratings give it a very high power-to-displacement ratio, which makes rotary engines compelling specimens in the first place.
Even better than the engine, is the handling. The weight of this car is not just light, but it is also evenly distributed. The result? When combined with rack and pinion steering, 4 wheel ventilated disc brakes, a sport tuned suspension, and an optional traction control system, this car handles just about perfect. It turns precisely; it grips well, and gives proper feedbacks, which are characteristics of a true sports car.
Exterior & Interior
The Mazda RX-8 has always been an oddity when it was released in 2004. While it is a sports car, it has only a few similarities with the RX-7 other than its sports car configuration and the rotary engine. For instance, it is a 4 sweater. And of course, there is the suicide door treatment at the rear that you wouldn't really observe when looking from it from afar.
At first glance, you'll think it's a 2 door coupe, but you'll be surprised to see that it is not. Still, its unconventional looks, while still a subject of criticism, is still fairly attractive, and makes it stand out over the rest of the field. Now, we move into the interior, wherein we feature the innovative 4-seat configuration, among other things. The theme of the car represents circles, apparently in homage to its rotary engine roots.
The trim used are acceptable enough, and while some people find the controls a bit awkward, it becomes tenable once you get used to it. The rear seats are actually usable, with entering made easier by the suicide doors. While the low seat configuration for both front and rear can take time to get used to, the seats provide enough stability even at speed. As for safety, this car has got some respectable scores in crash tests. However, some have taken issue with the rear pillar making rear visibility difficult.
The Competition
Other vehicles that you may want to compare the RX8 with are the Infiniti G37 Coupe (MSRP $37,150; 19 city / 27 hwy) the Nissan 370Z base coupe (MSRP $31,450; 18 city / 26 hwy), and the BMW 3 Series 328i coupe (MSRP $37,650; 18 city / 28 hwy). All of which are considerably more costly than the RX8.

Pros & Cons
So what are the pros and cons of owning this car? Most of them surround in what makes the RX-8 unique. First, consider the rotary engine. The output of the engine can only be described as prodigal, it can rev in extremely high levels without being too noisy, and its light weight is the primary reason why the car handles the way it is.
However, this same rotary engine lacks torque, most of its power is found on the higher revs, and its fuel consumption rates are awful. The RX-8's unique car design is a refreshing concept, and allows having 4 seats that are actually usable. However, this same design has its flaws. Its rearward vision is compromised at best, some may not like the seating positions both front and rear, and the trunk space is pedestrian compared to its size.
All in all, the Mazda RX-8 is a mixed bag. It has its share of standout strengths and glaring weaknesses. But all those make this car what it is. It is one of the most unique cars on production today, and it certainly doesn't lack in character.
Overall Rating


72 out of 100
What others say:
"On the market since 2003, the Mazda RX-8 returns for what could be a final model year in 2011 with no changes."Car Connection
"Firm, direct steering, along with great grip and balance make RX-8 a delight. It exhibits minimal body lean while cornering."Consumer Guide
"The RX-8 is a fun coupe that revs exceptionally smoothly, and the ride is impressive for a sports car."MSN Auto-ConsumerReports /
"Offering an adrenaline surge with four-passenger capacity, the 2011 Mazda RX-8 has some practical advantages over the typical sport coupe but is let down by a lack of torque and an SUV-like thirst for fuel."Edmunds
"While resting at idle, the RX-8 exhibits the distinctive vibration that is the calling card of its rotary engine."KBB