The Mazda MX-5 Miata is one of the best selling cars in history, and it is easy to see why. It looks great, it performs like a true sports car, it is practical and reliable for everyday use, and it is affordable. Those are some of the secrets of the Miata's success, and that's why it always has a healthy legion of fans. Now, Mazda is trying to carry over this magic into the third generation of the Miata.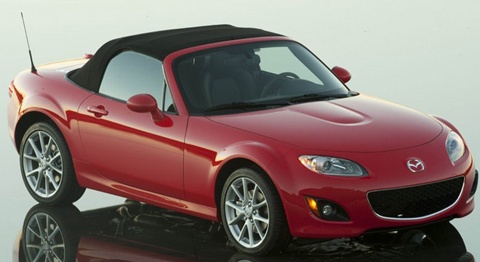 Specifications
General Info

| | |
| --- | --- |
| Vehicle Type: Compact Roadster | Base Price: $23,190.00 |
| Fuel Tank Capacity: 12.7 gallons (48 liters) | MPG: 22 city / 28 hwy |
Dimensions

| | |
| --- | --- |
| Length: 157.3 in. (399.5 cm) | Width: 67.7 in. (172 cm) |
| Height: 49 in. (124 cm) | Wheel Base: 91.7 in. (232.9 cm) |
| Curb Weight: 2447 lbs (1110 kg) | Ground Clearance: 4.6 in. (11.6 cm) |
| Luggage Capacity: 5.3 cu ft | Maximum Seating: 2 people |
Performance

| | |
| --- | --- |
| Engine: 2.0L 16 Valve DOHC MZR 4 cylinder w/ VVT | Displacement: 1999 cc |
| Horsepower: 167 HP | Max RPM: 7000 RPM |
| Torque: 140 lb-ft @ 5000 rpm | Transmission: 5-Speed Manual |
| 0-60 mph: 6.7 seconds | Maximum Speed: NA |
Available Trims & Engine

| | |
| --- | --- |
| Option:Miata MX5 Touring | MSRP: $25,550; MPG: 21 city / 28 hwy |
| Option:Miata MX5 Grand Touring | MSRP: $26,820; MPG: 21 city / 28 hwy |
Performance
Now, we go to the performance department, where perhaps most of the attention has been heaped on because, after all, this is still a sports car. Standard equipment for this car is a 2 liter 4 cylinder engine that has a peak output of 167 horsepower and 140lb/ft torque. While this doesn't seem to be enough power, it is more than enough to give it a respectable push, and it operates smoothly too.
It is powered with several transmission options: a 5 speed manual, a 6 speed manual, and a 6 speed automatic. However, the Miata is still all about its handling, and potential owners would be secure to know that it's still one of the best, if not the best, in this category. The suspension is well-set, managing to give excellent cornering characteristics while still providing a comfortable ride. In addition, the brakes are superb. 4 wheel discs with an anti-lock system are welcome additions. Combine these elements with a 50/50 weight distribution and a low overall weight, and you'll get a vehicle that can attack demanding roads (and tracks) with impunity.
Exterior & Interior
Looking at its exterior, it has kept the original formula of the MX-5s of years' past. It is still a convertible for 2, it is compact, and it is sporty. It still shares a lot of styling cues with the previous models, while incorporating some modern touches into it. Such melding of proven styling cues and modern design is a proven formula for success; just ask cars like the Ford Mustang. Also, owners have the option of equipping it with a soft top or hard top, with both variants of the roof going on and off without any hassles.
As for the interior, it has remained the same. With that said, people over 6 feet may find themselves stuffy inside this car, as the cockpit offers little wiggle room. Passenger room may be on the small side (it is a compact car after all), but you can't' say anything about the build quality of its interior.

The seats are both secure and comfortable, with just enough firmness. Also, keeping up with classic Miata traits, elements such as the gauges are all simple and driver-centered. They are all easy to read and use high quality materials. As for safety, it is still the same car that aced a lot of crash tests. Standard equipment includes front and side airbags, and traction control is optional.
The Competition
Comparable to the MX-5 Miata are the Mitsubishi Eclipse Spyder (MSRP $27,999; 20 city / 27 hwy), Ford Mustang (MSRP $27,310; 19 city / 30 hwy), and the high priced BMW Z4 (MSRP $47,450; 18 city / 28 hwy).
Pros & Cons
Overall, it retains all the core values of past Miatas. It is a gorgeous, practical 2 sweater, with superb handling characteristics, and everyday usability. As for styling cues, it still has the classic lines of the original, and it's meant in a good way. While some say it can use more power, it doesn't really matter, because this car is not all about that. And while space (both seating and luggage) can be simply described as small, it's not like this car is all that big in the first place.
The 2011 Mazda MX-5 Miata has successfully lived up to the legend. It stays true to its roots despite evolving, and was better off because of that.
Overall Rating


76 out of 100
What others say:
"The 2011 Mazda MX-5 is a back-to-basics sports car that you don't have to drive fast to enjoy—and it has way more practicality than you'd probably expect."Car Connection
"MX-5's steering is quick and precise, though some testers find it unduly heavy at low-to-moderate speeds."Consumer Guide
"The redesigned MX-5 is fun and agile, yet fairly civilized and affordable."MSN Auto-ConsumerReports
"The 2011 Mazda Miata maintains its position as one of the all-time great roadsters, mixing refinement and excitement in an affordable, compact package."Edmunds
"If you enjoy an immediate connection between steering wheel and roadway, you'll revel in the performance of the MX-5 Miata."KBB