It was in 2006 when the Mazda CX-7 made its first public appearance. It came out with its own identity. It is known to have great style and powered by a new base engine, a 2.5-liter, four cylinder engine with an optional turbocharged engine. The 2011 Mazda CX-7 ranked 10 in the rankings out of 23 compact SUVs that were affordable.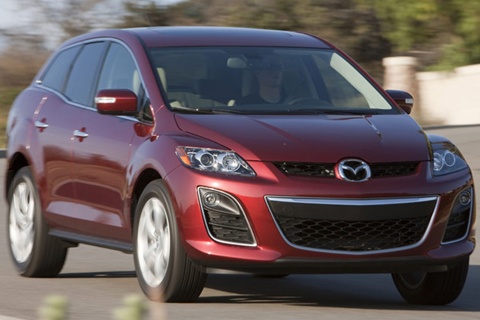 Specifications
General Info

| | |
| --- | --- |
| Vehicle Type: Midsize SUV | Base Price: $21,990.00 |
| Fuel Tank Capacity: 16.4 gallons (62 liters) | MPG: 20 city / 28 hwy |
Dimensions

| | |
| --- | --- |
| Length: 184.3 in. (468 cm) | Width: 73.7 in. (187 cm) |
| Height: 64.8 in. (164.5 cm) | Wheel Base: 108.3 in. (275 cm) |
| Curb Weight: 3496 lbs (1585 kg) | Ground Clearance: 8.1 in. (20.5 cm) |
| Luggage Capacity: 29.9 cu ft | Maximum Seating: 5 people |
Performance

| | |
| --- | --- |
| Engine: 2.5L 16-valve DOHC 4-cylinder w/ VVT | Displacement: 2488 cc |
| Horsepower: 161 HP | Max RPM: 6000 RPM |
| Torque: 161 lb-ft @ 3500 rpm | Transmission: 5-Speed Shiftable Automatic |
| 0-60 mph: NA | Max Towing Capacity: 1500 lbs (680 kgs) |
Available Trims & Engine

| | |
| --- | --- |
| Option:CX-7i Sport | MSRP: $22,795; MPG: 20 city / 28 hwy |
| Option:CX-7i Touring | MSRP: $26,390; MPG: 20 city / 28 hwy |
| Option:CX-7s Touring | MSRP: $26,255; MPG: 18 city / 24 hwy |
| Option:CX-7s Grand Touring | MSRP: $31,640; MPG: 18 city / 24 hwy |
Performance
The Mazda CX-7 is equipped with a four-cylinder 2.5 liter engine with a base power of 161 hp. The engine is coupled with an automatic six-speed transmission. With the maximum power of the engine (244 hp) and a torque of 258 ft lb, the CX-7 can move to a speed of 60 mph in just 7.5 seconds. Handling the car is easy especially if you are used to handling sporty car. But there are cases when the brakes suddenly gets stiff so it is encourage to pick other cars if you are riding with your family.
Exterior
One reason why you would pick Mazda CX-7 is that it has exceptional exterior design than other SUVs. The style is very distinctive and it is integrated with prominent features like the bulging arches of the rear wheel, the glass tail lights that were frosted, double pipes for exhaust, a spoiler roof, a grille that is two-tier, and alloy wheels 18 inch in diameter.
Interior
Though the interior of Mazda CX-7 is smaller since it has a cramped seat in the rear part, it is still better than the others because a DVD system is integrated in the front of the rear seat. The materials used in the design are of high-quality. The interior is mostly black that has silver trims or linings. Other interior features include Bluetooth, a monitoring system for the blind spot, and a keyless entry.
Safety
The 2011 CX-7 still hasn't been tested for car crashes but it has almost the same safety features of the 2010 model. The 2010 model received the highest five-star grade for the protection of the passengers/driver on the front and side part of the SUV. The rollover score of four-star is also given to the 2010 model. 2011 CX-7 is also carefully designed to address the needs of the safety of the occupants. All the necessary standard features that should be included in a car are present in CX-7 like the airbags on the front side and the air curtains on the side part, control system for the traction and many others.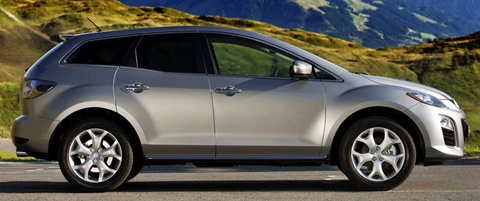 The Competition
Compared to other SUVs like the Chevrolet Equinox (MSRP $22,995; 22 city / 32 hwy), Mazda CX-7 is a little behind since Equinox has more interior space. The seat on the second row of Equinox is more comfortable and you can fit more valuables in the cargo area.
The CX-7 is also comparable to the Volkswagen Tiguan (MSRP $23,720; 18 city / 26 hwy). Driving Tiguan gives more fun but its starting price is higher than that of CX-7. Choose CX-7 over Tiguan because it offers a better economy of the fuel.
Pros & Cons
Mazda CX-7 is perfect for you if you are looking for a compact SUV to enjoy driving its sporty performance. The exterior design is irresistible because it has a unique style. Above all other pros, CX-7 is equipped with an engine that would definitely give you a fast and enjoyable ride. But if you have a growing family, then you need to think twice before deciding to have CX-7 in your garage because all the members of the family will not fit inside the car. The rear seat is cramped and it has little cargo space. There are also times when the suspension is stiff since it is designed to be a bit like a sports car.
Overall Rating


69 out of 100
What others say:
"The 2011 Mazda CX-7 remains a good compromise vehicle for small families—especially if you want a driving experience that's closer to that of a sport sedan and can't be seen in a minivan."Car Connection
"CX-7 is less car-like than advertised but is agile for an SUV of this size and weight, abetted by fine steering and a well-planted feel. Its turning radius is also impressively tight."Consumer Guide
"Fuel economy is not particularly good. The interior is well put together, but the rear seat is not very roomy and is too low."MSN Auto-ConsumerReports
"Thanks to a sharp design and sharper handling, the 2011 Mazda CX-7 brings some much-needed fun to a practical but mostly bland segment."Edmunds
"Mazda didn't pioneer the crossover sport utility vehicle, but with the introduction of the 2011 Mazda CX-7 it certainly made the SUV more fun to drive."KBB