In reality, we realize that luxury does not always go together with being green without it being a hybrid, but Lincoln, a prominent luxury car manufacturer, has introduced one of their upscale midsize cars 2011 Lincoln MKZ in a hybrid version. It is the first hybrid car in its production that interestingly has the same cost as the gas version. It brags to be the most fuel-efficient luxury sedan in America. Lincoln MKZ Hybrid is an extra ordinary combination of luxury and economy, an exceptional product of the trending green society that is widely popular during these times.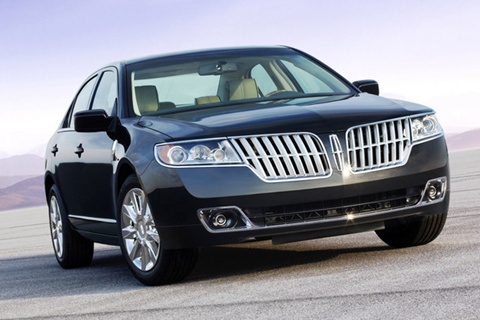 Specifications
General Info

| | |
| --- | --- |
| Vehicle Type: Hybrid Sedan | Base Price: $34,645.00 |
| Fuel Tank Capacity: 17.5 gallons (66 liters) | MPG: 41 city / 36 hwy |
Dimensions

| | |
| --- | --- |
| Length: 189.8 in. (482 cm) | Width: 72.2 in. (183 cm) |
| Height: 56.8 in. (144 cm) | Wheel Base: 107.4 in. (272.7 cm) |
| Luggage Capacity: 11.8 cu ft | Maximum Seating: 5 people |
Performance

| | |
| --- | --- |
| Engine: 2.5L Atkinson Cycle I-4 hybrid | Compression Ratio: 12.3: 1 |
| Horsepower: 156 HP | Max RPM: 6000 RPM |
| Torque: 136 lb-ft @ 2250 rpm | Transmission: e-CVT (electronic continuously variable) |
| 0-60 mph: 8.2 seconds | 1/4 Mile: NA |
Performance
While sport sedan enthusiasts may not be totally impressed with the MKZ Hybrid's performance, it is only because it was not particularly designed to be a sport sedan though it has a sporty look on the outside. MKZ Hybrid is powered by a 2.5-liter four-cylinder engine coupled by an electric motor. Altogether, it has the ability to generate 191 horsepower and 136 pound-feet of torque. It further justifies its fuel economic characteristic with its capability to go up to 47 miles per hour on electric power alone. The power per se is not pretty much remarkable but it is perfectly adequate for a regular daily driver.
Exterior & Interior
For its outward appearance, it does not vary much with the gas-only version. It shares the same sleek and sporty look with the identifiable large elegant grille and ample taillights. The MKZ Hybrid does not have a hint that it is indeed a hybrid car. The hybrid badges are modestly positioned only on the front doors and on the back lid of the trunk, which makes it astonishing when noticed. MKZ Hybrid is a pretty midsized car worthy of a second glance if not a long stare. The interior is also nice with trimmed leather seats and a little touch of genuine wood around the cabin that they say comes from environmentally controlled forests.
Some may say it is quite vanilla for a luxury car but with a state-of-the-art technology, it is pretty much impressive. It also has a unique and fun feature on the LCD screen display showing up adding petals into a white flower when you are driving well.
Safety
As to safety, MKZ Hybrid has a four out five stars from the federal government but the Insurance Institute for Highway Safety has not rated them yet although the gas-only version of MKZ is a 2011 Top Safety Pick. Overall, Lincoln MKZ Hybrid absolutely has a good reputation in safety and reliability.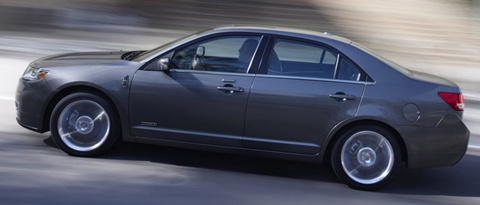 The Competition
Compared to other hybrid cars on the same class, Lexus HS 250h (MSRP $36,330; 35 city / 34 hwy) is its closest rival although MKZ Hybrid has better specs and is actually a little bit more attractive. In this case, many would agree that Lincoln is definitely a better choice but the thing about the Lexus is that its brand has that tacit superiority as compared to Lincoln. The other competitor is Ford Fusion Hybrid (MSRP $28,600; 41 city / 36 hwy) that costs less than the price of an MKZ Hybrid but with almost the same feel and quality.
There are also several other cars from different manufacturers selling hybrid midsize cars although they are not really into the luxury scene hence they have way lower costs. But if you are eyeing into a Lincoln MKZ Hybrid, the rest of the hybrid cars from other car manufacturers may not really catch your interest.
The bottom line is the Lincoln MKZ Hybrid is quite exceptional as a green luxury car. It is one of the best in its class and is definitely a good choice however; the cost is not very well aligned with its green character.
Overall Rating


82 out of 100
What others say:
"With jazzy style, the luxury goods it needs and a new outlook on what luxury actually means to non-cigar-smoking, non-McMansion-dwelling urbanites, the MKZ Hybrid is a clear marketing win as Lincoln specs out a somewhat opaque future."Car Connection
"The 2011 Lincoln MKZ Hybrid is the top choice for shoppers in search of an entry-level luxury hybrid sedan…"Edmunds