The Lexus LX 570 is an all-wheel drive that has a 5.7 liter V8 engine. Toyota has given this model a brake override system which the company calls the Smart Stop. This technology decreases the engine power if both the accelerator and brake are both depressed.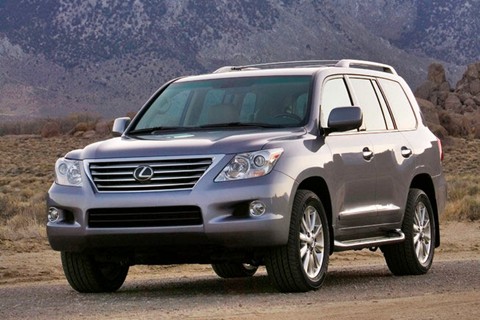 General Info

| | |
| --- | --- |
| Vehicle Type: SUV | Base Price: $79,455.00 |
| Fuel Tank Capacity: 24.6 gallons (93 liters) | Miles Per Gallon: 12 city / 18 hwy |
Dimensions

| | |
| --- | --- |
| Length: 196.5 in. (499 cm) | Width: 77.6 in. (197 cm) |
| Height: 75.6 in. (192 cm) | Wheel Base: 112.2 in. (285 cm) |
| Curb Weight: 5995 lbs (2719 kg) | Ground Clearance: 8.9 in. (22.6 cm) |
| Luggage Capacity: 83.1 cu ft | Maximum Seating: 8 people |
Performance

| | |
| --- | --- |
| Engine: 32-valve DOHC V8 | Displacement: 5.7 LITERS |
| Horsepower: 383 HP | Max RPM: 5600 RPM |
| Torque: 403 lb-ft @ 3600 rpm | Transmission: 6-Speed Automatic (ECT) |
| 0-60 mph: 7.4 seconds | Max Towing Capacity: 7000 lbs (3175 kgs) |
Interior
The Lexus LX is full of luxury notwithstanding that it is an SUV that is more known for vehicles with rugged no-nonsense appeal. This model can both be a roomy family utility vehicle as well as an able off-roader. Many have praised its powerful engine plus its 7,000lbs towing capacity. It has seating for 7 people and could carry up to 83.1 cubic feet for cargo. This gives the passengers ample space to stretch aside from being a capable all-weather drive.
True to the Lexus brand, this vehicle has the following posh features:
heated first row seats
Start-up through a one-button push
One-button push to fold third row seats
Seat heights that can be adjusted
Locking rear differentials
Being an off-road vehicle did not stop the Lexus LX from having luxurious interiors which has even confused some reviewers on which vehicle category does the Lexus LX really belong. For automakers however, many have now realized that more SUV buyers want comfort together with technology versus just having off-road characteristics. Those off roader fans though would not be the best market for these luxury SUVs. This vehicle is more for those willing to pay the price for class, technology and off-road capability all in one vehicle. This is what the Lexus LX stands for. This is what its image projects.
The Competition
Today, there have been concerns regarding the environmental impact of utilizing large SUVs which are known to be gas guzzlers. However, this has not stopped car companies from producing these type of vehicles. In the same class and a close alternative to the LX 570 for instance is the Land Rover (MSRP $80,535; 12 city / 18 hwy). The Land Rover offers the same posh interior, stable on-road drive and burly off-road capabilities. However, the Range Rover is priced more than the LX 570. Both SUVs have the same fuel consumption and both vehicles seat 7 people.
For those, however, who want an SUV with utmost luxury, the Cadillac Escalade (MSRP $66,955; 13 city / 18 hwy) is what comes top of mind. The Escalade does not offer such burly off-road capabilities the way the LX 570 does yet it comes standard with an all-wheel drive. Somebody who buys the Escalade would not buy it for its off road capabilities, most likely, they buy for its "bling" presence that speaks of utmost luxury that makes heads turn anywhere. The Escalade is still priced lower than the Lexus. It has also slightly better fuel economy if compared to the Lexus LS and the Range Rover.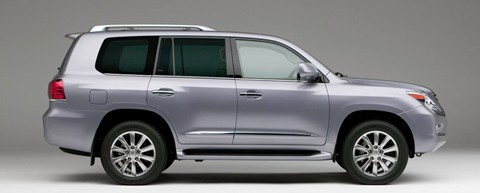 When considering the Lexus LX closely however, the Toyota Land Cruiser (MSRP $69,730; 13 city / 18 hwy) should also be an SUV to keep close watch on as it is just as capable off road yet starts at a price that is less. The interior of the Land Cruiser may not be as spruced up as the Lexus LX but it is still worth thinking about considering the savings.
Pros
Excellent off-road capability even with tests across the roughest pavement
Luxurious and classy interiors
High-tech safety features which makes driving safely a breeze
A unique combination of luxury and technology not found in too many SUVs
Cons
Unimpressive Exterior Design
Steering is quite detached and need some body lean
Recall experienced by certain models since it was tested that the accelerator has the tendency to get caught in the foot mat and therefore cause accidents
Overall Rating


70 out of 100
What others say:
"The 2011 Lexus LX 570 is no Range Rover or Escalade, and it isn't a serious trail crawler either; what's left is a luxurious and well equipped SUV, but one with limited appeal."Car Connection
"The steering is too light for our tastes but is quick and has good feedback. Fairly tight turn radius aids maneuverability. This SUV exhibits stable highway feel and fairly modest cornering lean, but high build and hefty weight demand lots of slowing for tighter bends."Consumer Guide
"The 2011 Lexus LX 570 offers a remarkable combination of around-town civility and off-road capability."Edmunds